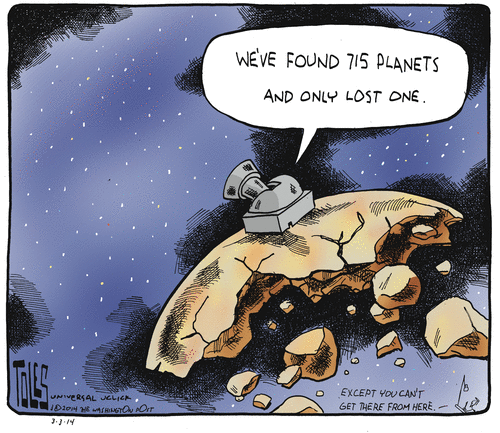 (Tom Toles via GoComics.com)
Sometimes all you can do is bear witness. Will this get any coverage on the morning talk shows, I wonder?:
In the summer of 2010, it was Harry Reid, the Senate's Democratic leader, who squelched his party's efforts to pass a climate change bill, declaring it could never attract enough votes to pass. In the years since, he has rarely spoken publicly about the issue.

But on Monday night, an impassioned Mr. Reid took to the Senate floor to kick off a nearly 15-hour climate-change talkathon by about 30 Senate Democrats, part of a campaign by a new Senate "climate caucus" to make it a politically urgent issue…

The all-night session was the latest effort by the group, which is working with a parallel House caucus, to elevate the issue of global warming. The members know that serious climate change legislation stands no chance of passage in this divided Congress, where many lawmakers in the Republican-majority House deny the science of human-caused global warming.

Climate caucus members say their objective is to raise the urgency of global warming and build toward a time when the political landscape may have shifted enough that a bill could pass. They argue that there are signs that the political winds may already be changing.

"It's aimed toward the day when something more concrete can be legislated," said Senator Edward J. Markey, Democrat of Massachusetts, a veteran of climate and clean-energy policy battles.

In addition to Monday's overnight session, members of the group give regular speeches on the floor of the House and the Senate about the urgency of fighting climate change. They hold weekly meetings with environmentalists, lobbyists and some corporate leaders who support their policies. Senator Sheldon Whitehouse, a Rhode Island Democrat and a leading member of the caucus, is planning a trip to Iowa centered on events related to climate change, in the hope of elevating the issue before the 2016 presidential caucuses…
Good for my Senator (and former Rep) Markey. (Yep, Senator Warren was scheduled to be there as well.) I will point out, in Senator Reid's defense, that in 2010 he was being leaned on by all the good "centrist", pro-business Democrats to lay off the climate-change talk for fear of losing the midterms to the Repubs. You all know how well that didn't work out for our side, so good on Harry for ditching the apologists and joining the coalition of the sane.
Ari Philips at ThinkProgress has a list of the 28 senators from the Climate Action Task Force planning to participate, along with a selection of the local problems that will impact each of them.
***********
Apart from fighting the good fight, what's on the agenda today?