With apologies to Soonergrunt, I can't help being unsurprised by this:*
There's not been a lot of discussion of evolution in Neil deGrasse Tyson's Cosmos so far, and yet a very slight reference to it was so upsetting to Fox's Oklahoma City affiliate that they just "happened" to run a promo for the nightly news over the show's sole mention it, as you can see in the above video.
Hit the link (to the delightful io9) to see what so spooked the delicate sensibilities of the good folks at Fox25 Oklahoma City.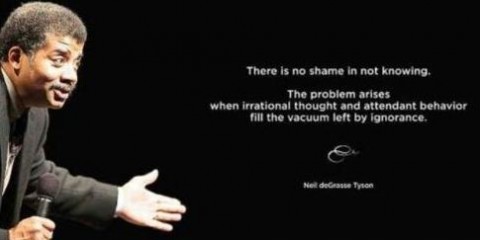 On the one hand, I'm glad:  the competitive advantage of the science-friendly states can only grow in the face of willed ignorance elsewhere.  On the other, I'm terribly sad.  I don't live only on my block; I'm a citizen of a commonwealth, a country and a member of  a global commons.  The more such idiocy persists, the more we all lose.
*Back when I was working w. Neil deGrasse Tyson on the NOVA series Origins, I made the film on the evolution of the universe to the chemical conditions compatible with earth-like life.  I wanted to call it "In the beginning," for obvious reasons.  My elders and betters morphed that to "Back to the Beginning" — which manages to offend those who would be offended anyway while losing all the force of original.  So it ain't just Fox, ya know.