When should people get treatment?  Should people get treated for something as early as possible?  Or should they wait until later when discrete milestones are passed?  What does the decision tree look like?
The Incidental Economist passes along the latest research on the prostate cancer treatment debate.  The United States has a culture of treatment as soon as prostate cancer is bio-chemically detectable.  Most of Europe has a culture of treatment at a milestone.
NEJM, Anna Bill-Axelson and colleagues published the latest findings from the Scandinavian Prostate Cancer Group Study Number 4 (SPCG-4).

RESULTS: During 23.2 years of follow-up, 200 of 347 men in the surgery group and 247 of the 348 men in the watchful-waiting group died. Of the deaths, 63 in the surgery group and 99 in the watchful-waiting group were due to prostate cancer; the relative risk was 0.56 (95% confidence interval [CI], 0.41 to 0.77; P=0.001), and the absolute difference was 11.0 percentage points (95% CI, 4.5 to 17.5)….
Aggressive treatment works in this care.  However IE also passes along a critique of translating this research into the United States.
Second, the results of this study aren't necessarily generalizable to a US population, as Richard Hoffman explained.

PSA screening became widespread in the US in the early 1990s—a decade before the first SPCG-4 publication. Perversely, the American way was to expend considerable resources to promote screening efforts to find cancers…before knowing whether these cancers could be successfully treated. [So,] the SPCG-4 results are not readily translatable to US practice. Only 5% of the study cohort had cancers detected by screening PSA—the rest either had symptoms and/or a palpable tumor. In the US, a substantial proportion of men with PSA-detected cancers have microscopic disease—which may never cause problems during a man's lifetime. The US Prostate Cancer Versus Observation Trial (PIVOT) also evaluated surgery vs. watchful waiting. However, PIVOT, which mostly enrolled men with PSA-detected cancers, found no benefit for surgery. Post-hoc analyses suggested that only the small proportion of men with higher-risk cancers (based on PSA and the microscopic appearance of the cancer) seemed to have a survival benefit.
The US research has found that aggressive treatment of bio-chemically detected prostate cancer does not do much to improve outcomes for the general population of biochemically detected prostate cancer patients. Aggressive treatment tends to have significant side-effects as well.
What could a potential decision tree look like that minimizes overtreatment while also minimizing undertreatment?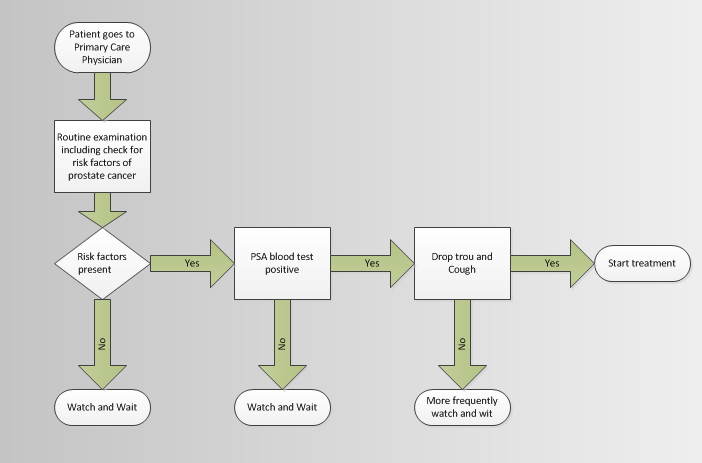 The goal is to treat only the cases of cancer that could actually kill someone. Treating a cancer that is localized and miniscule and only bio-chemically detectable exposes individuals to significant side-effects that will decrease the quality of their life without improving their long term survival probabilities. A 107 year old man would be a poor candidate for aggressive treatment of a biochemically detectable but not physically detectable cancer as something else is far more likely to kill him first. A 43 year old man who has a biochemically detectable cancer would benefit from aggressive watching and waiting as he avoids side effects for a while, but aggressive intervention can be performed if the cancer becomes more significant as that larger/more aggressive cancer would have a decent chance of actually killing him if left unchecked.
Moving back to the insurance company beat; insurance companies can use their purchasing power and benefit designs to enforce national best standards of care on their members. If the best standard of care is that aggressive prostate cancer treatment only is useful for physically detectable prostate cancers, the insurance company could choose to either not pay for or pay at a lower rate aggressive interventions of bio-chemically detected only cancers while paying full freight for physically detected cancers.
The big problem with the previous paragraph is that type of policy is guaranteed to produce amazingly sympathetic sob stories on the local news.  Insurance companies like to avoid being the easy and accurate villian that is saying no to the cancer treatment of a well spoken, well connected middle age male.  We'll lose that PR battle every time, and if a single company in a market engages in best practices only payment models that involves saying no, they'll quickly lose market share.