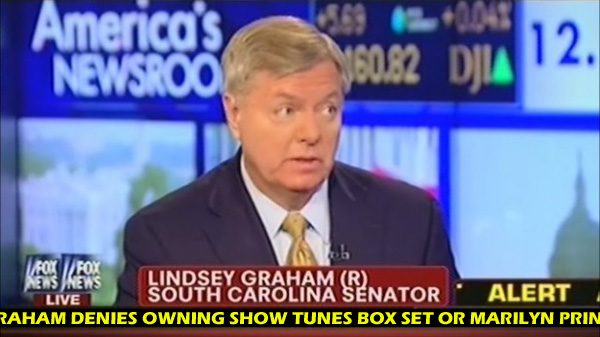 Speaking of TBogg luv, I thought this was a joke at first, but apparently it's on the up-and-up. Or down-low:
Lindsey Graham challenger calls SC senator "ambiguously gay"

COLUMBIA, SC — Four of U.S. Sen. Lindsey Graham's announced challengers in June's Republican primary pledged support for each other Thursday if any of them end up in a runoff with the Seneca incumbent.

But a news conference announcing their alliance on the State House steps took an unexpected turn when the most minor of the candidates, Dave Feliciano of Spartanburg, took the podium and called Graham "ambiguously gay."

Feliciano said, "It's about time that South Carolina (says) hey, We're tired of the ambiguously gay senator from South Carolina. We're ready for a new leader to merge the Republican Party. We're done with this. This is what it's about, all of us coming together and saying, one way or the other, one of us is going to be on that ballot in November."
If you click through to The State article, Graham's accuser is pictured, looking perhaps a bit less butch than expected. Open thread.
Note: The image above has been Photoshopped.