I ate a lot of it growing up, and I know I'm not the only one. Calvin Trillin has a talk called "Midwestern Jews: Making Chopped Liver with Miracle Whip". He tells the story that, once after giving the talk, a woman congratulated him on the clever metaphor, and he replied, "that's no metaphor, that's my Mom's recipe."
I don't think that Miracle Whip is the tastiest food product known to man, but you have to understand the context in which it was eaten. The wide-open Plains are full of bland food and lots of butchers, so when we made sandwiches, it was usually some kind of prepared meat on white bread with cheese and mayo. Miracle Whip is a very lightly spiced version of mayo, so if you wanted a little "zing" on your bland sandwich, you used it instead of Hellman's. One sandwich that probably took a few years off my life consisted of a variety of liverwurst with a white rind made entirely of fat and a piece of cheese (Kraft Cheddar if you were lucky, Kraft American in an individual slice wrapped in plastic if you weren't). This delicacy was served on soft white bread (Sweetheart, the local Wonder-like brand) slathered in Miracle Whip. A small piece of iceberg lettuce was optional. In the summer, this was made much more tasty with a homegrown tomato. BLTs in our house were always served with Miracle Whip, and any "salad" (like macaroni salad) that called for mayo also used Miracle Whip.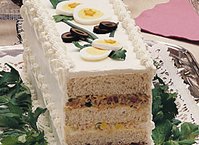 Miracle Whip was a key ingredient of sandwich loaf, pictured at right, which consisted of layers of sandwich fillings like egg salad, tuna salad, and the make-or-break Underwood Deviled Ham layer, in which Miracle Whip was a critical component. In case you've never had sandwich loaf in the formal setting shown here, you might not have seen a "frosted" version, which used a thick covering of cream cheese to make sure that everyone eating it gets their beetus on.
If you think that's the most disgusting food known to man, avoid the area roughly west of Chicago, east of Denver and north of Oklahoma, and you should be fine.
(By the way, in defense of my Mom, she mostly made this stuff when entertaining or to feed us with our friends, because her good Mexican cooking went unappreciated by bland eaters among her family and friends.)