… Or Evacuation Day, as we sometimes pretend to call it around here. The South Boston parade went off yesterday, without incident, and also without participation from new Mayor Marty Walsh, despite hopes earlier this month that a truce could be negotiated between "parade organizers from the Allied War Veterans Council and the statewide gay-rights organization MassEquality, which sought to end a two-decade ban on groups espousing progay messages". But "stalwart" bigot Wacko Hurley is 83, and looks every day of it, and even his neighborhood has moved on without him: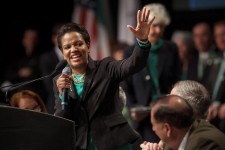 The crowd was already up on its feet, clapping and cheering when Senator Linda Dorcena Forry took the stage, belting, "If you're Irish, this is the place for you."

But, aware that some longtime viewers of the St. Patrick's Day breakfast in South Boston might be shocked to see a Haitian-American woman hosting the 70-year-old political roast, she offered a few reassuring words.

"For those of you watching at home, do not adjust your television set," Dorcena Forry said, as the audience roared with laughter. "There is nothing wrong with the picture on your TV. That is right, everyone. That's right. I'm a woman!"

Much of the annual breakfast remained familiar — down to the long litany of cringe-inducing jokes by elected officials. But this was also a very different event, infused with fresh energy and interest as Dorcena Forry made her debut in what has been widely seen as a sign of Boston's evolution from a parochial town of old ethnic allegiances to a multiracial city of new faces and shifting centers of power…
Dorcena Forry was born and has spent her life in Boston; she's married to an Irish-American. There's still plenty of 'ethnic allegiances', just not the ones Wacko Hurley remembers. One way or another, the parade moves on…
Apart from celebrating new sociopolitical groups' ascension into political power (or recovering from having done so), what's on the agenda for the start of another week?