I dare someone to make sense of even those things about the missing Malaysian airliner that seem written in stone at this point.
(1) Someone turned off the transponder a long time before the plane stopped flying.
(2) Someone reprogrammed the autopilot to follow a new course.
(3) Several countries' military radar tracked the plane west until it disappeared over the Andaman sea.
(4) The plane temporarily climbed to 45,000 feet after it changed course.
(5) Its engines sent automatic updates by satellite every once in a while. The last 'ping' indicated that MH370 was still flying seven hours after it disappeared. Further,
(6) The 'ping' indicated the last known location of the plane, somewhere on the circle in orange (the satellite is in the center of the circle):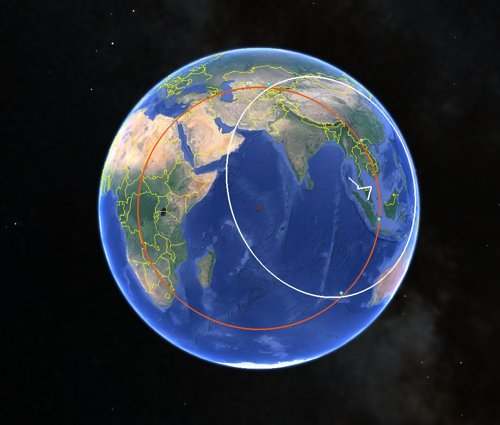 (7) The circle in white indicates roughly how far it could fly before it ran out of fuel.
Now I will add some assumptions that strike me as pretty safe.
(8) The flight probably did not pass over or near any more highly populated landmasses. Not every inch of Earth is covered by military radar, but the seas and borders around Malaysia/Indonesia are busy, not-100%-friendly and have lots of complex borders. Therefore most of that arc of land east of the Indian Ocean is covered. Northwest Australia also has plenty of heads up.
(9) It did not fly over mainland India or China, It did not cross the Himalaya/Karakoram mountain ranges and it certainly did not get anywhere near Kashmir or the India/Pakistan border without being detected.
(10) MH370 did not land on a friendly airstrip and I doubt that it landed in Burma. Provoking China like that would be suicidally dumb even for the junta.
(11) Yes the region has tons of old airstrips from WWII, but to reach them the plane would have to fly back over Malaysia or Indonesia, i.e. tracked airspace.
What possibilities do we have left? A pilot with Egyptair 900 in mind would not cool his heels for seven hours until the plane ran out of fuel. That leaves me with two scenarios. In both cases I guess that whoever was in control used the sudden climb to 45,000 feet to knock out most people on board with low pressure. First you have 9/11, but if so it didn't work. John Aravosis noted that a plane headed for Diego Garcia would probably be intercepted. That is an awful, horrible thought, but I will leave it up here since at least that fits in the gaps between things that we know not to be true. The other possibility is equally nuts. Someone inspired by the 2002 film Mission: Impossible 2 would have seven hours to find some macguffin in the cabin or the cargo hold (from what I heard the cabin has access to both holds in the 777) and jump out over a preset GPS coordinate. Friends wait at the coordinates to pick you up and the plane runs out of fuel somewhere west of Australia.
Again, I don't assume that either of those things happened. But I do think we have a striking lack of non-supernatural explanations that cannot be quickly ruled out by things we already know. If anyone has a more sensible idea that (1) fits the current facts and (2) makes some sense on a human level then please share it. I am at a loss.
***Update***
This informed speculation by a professional pilot makes a lot of sense. I would jump at the idea that the crew was overcome by smoke from an electrical fire except that the plane kept changing course after it passed what seems like the best emergency airport, and if it kept going at its last known heading it either would have crashed over land or at least pass close to the India/Pakistan border. Plus the westerly course takes it far from the last satellite ping.