Everyday when I check the news, I really think I'm having flashbacks from a different lifestyle 25+ years ago. It boggles my mind that a major news network spent two weeks doing wall to wall coverage on a plane that obviously had crashed at sea. No, it was not sucked up into a black hole, no, no one took it to wherever, etc. Wasn't it fucking obvious they were all dead? Don't terrorists who hijack plans either make demands or crash it into something to make a point? Wouldn't a letter taking responsibility have surfaced? But yet CNN spent fucking days covering every preposterous angle. Of course it is a tragedy, but why do we have to turn it into speculation porn?
The major news of today is that the Supreme Court's swing vote sociopath, Anthony Kennedy, thinks the Hobby Lobby issue is about abortion. It's depressing enough that this troglodyte has this much power over Americans, but it is not more depressing than the fact that he is the fucking swing vote, which means that almost half the court is already so far gone that we have to worry about fucking Anthony Kennedy's personal lady parts issues. And even worse than that is this has even gotten to the Supreme Court. That's the most fucked up thing- we are dealing with this issue because our religious nuts are that much in control of the national debate. For me, the whole Hobby Lobby case boils down to this: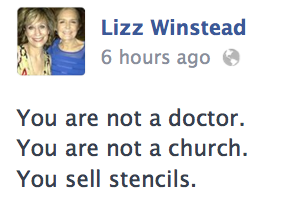 We live in weird times, and this madness won't be undone for decades, and probably long after I am dead.