There's a sub shop not too far from where I live that serves one kind of sub: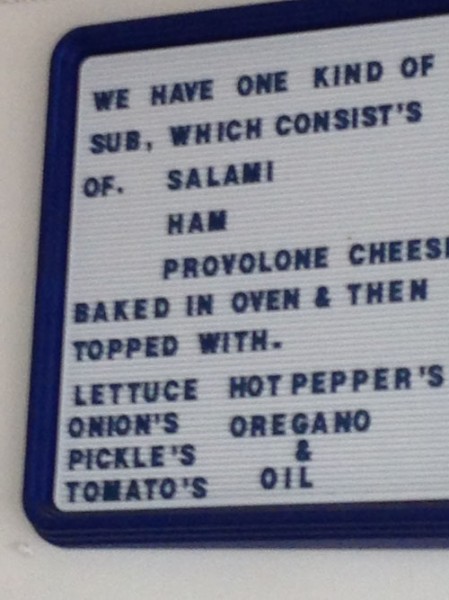 Their grammar and punctuation skills are about on par with my abilities as a photographer. And they don't have mustard or mayo or different kinds of bread or cheeses. Your choices are as follows: whole or half.
It's not my favorite sandwich in the entire universe, but it's good enough that I'll drive several miles to get one every now and then.
My favorite sandwich is one I make about once a year. I got the recipe from a Food Network program, I think, but have modified it a bit. Anyway, it consists of bacon, freshly carved turkey, jack cheese, avocados and balsamic mayo on grilled ciabatta bread.
I am also fond of the post-Thanksgiving leftovers sandwich: turkey and mayo on Cuban bread with a few dollops of stuffing and a slathering of homemade cranberry sauce.
What's your favorite sandwich?