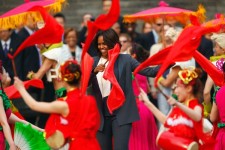 Our First Lady is, as ever, amazing. From the NYTimes:
CHENGDU, China — Michelle Obama's weeklong trip to China seemed to start as a spring break holiday with her mother and daughters but has turned out to include far more substance — and politics — than the cheerful advocate of fitness and healthful eating she often displays at home.

At a high school here on Tuesday, Mrs. Obama pointedly told students that the United States championed "the right to say what we think and worship as we choose," even as she conceded that Americans still lived those ideals imperfectly and that minorities had struggled to overcome a legacy of discrimination.

"Many decades ago, there were actually laws in America that allowed discrimination against black people like me, who are a minority in the United States," Mrs. Obama said in a speech at the No. 7 School here. "But over time, ordinary citizens decided that those laws were unfair. So they held peaceful protests and marches."

Slowly but surely, Mrs. Obama said to her rapt young Chinese audience, America changed, and "today, 50 years later, my husband and I are president and first lady of the United States."…

Although her remarks have been less thunderous than the call for women's rights delivered by Hillary Rodham Clinton as first lady in Beijing in 1995, Mrs. Obama has been more intimate in bringing her own personal story to China. On Tuesday, for example, she told students about her uphill journey from the South Side of Chicago to Princeton and Harvard Law School, both coveted destinations for the children of China's elite.

On Saturday at the Stanford Center of Peking University, Mrs. Obama spoke of free expression, particularly on the Internet, as the essential ingredient of a prosperous society, and on Sunday she met with a blind man during a round-table discussion at the American Embassy in Beijing to promote opportunities for those with disabilities.

At every stop, she has pushed the idea that excellent education should be for all, not just the rich — a theme that is familiar in her appearances in the United States but strikes a different chord here…
You should definitely click over and read the whole thing, not least for the videos.
***********
Apart from feeling good about America, what's on the agenda tonight?