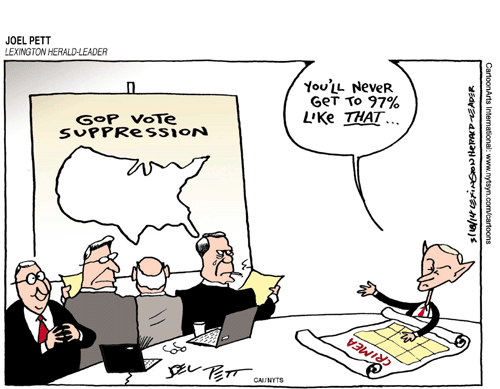 (Joel Pett via GoComics.com)
Professor Krugman notes that Dave Weigel finds that, for Democratic fundraisers, "Things Go Better With Kochs":
… [E]mails that bash the Kochs raise three times as much as emails that don't.

And you can see why: the Kochs are perfect villains. It's not just what they are — serious evildoers who use their wealth to push hard-line right-wing, anti-environmental policies that redound very much to their own benefit. It's also what they aren't: they're wealthy heirs, not self-made men, they aren't identified with innovation (which you can at least argue for Bill Gates), they haven't made money for other people like Warren Buffett. So focusing on the Kochs is a way to personalize a vision of conservative politics as a defense of people with unearned privilege.

And here's the thing: that vision is basically right…
Weigel's further defending his stance:
… So 13 percent of Americans view the Kochs favorably and 25 percent view them unfavorably. By contrast, "Wall Street" has a 29/39 favorable/unfavorable rating, and the most prominent libertarian in America, Rand Paul, is at a robust 38/30. There you go—the Kochs are by miles the least popular icons of the pro-business, libertarian right. It only makes sense to pummel them. And when you pummel, you realize that "all Americans" will not be the electorate in 2014. The electorate will consist of maybe 40 percent of registered voters. Democrats need that electorate to grow a bit and include more Democrats. Anything that scares or angers them and makes them vote, they'll use.
Republicans have relied for many, many electoral cycles on advertising boogeymonsters to scare voters to turn out and vote against their own best interests. If Democratic candidates are finally beginning to understand that we can, and should, use the vast supply of actual GOP monsters — people like Charles & David Koch, malefactors of great wealth — as an argument for our voters to get down to the polling places, more power to us!