Prepare for the most heartbreaking story of the last year or more:
Shanesha Taylor, a woman from Scottsdale, Arizona, is homeless. So when she got asked to come in for a job interview last Thursday, she must have been excited by the prospect. But when you're homeless, there isn't always an easy way to take an hour off from watching your kids to be at an interview. That's how Taylor, 35, wound up losing her children to Child Protective Service — and losing out on the potential job.

Taylor was charged with two felony counts of child abuse for leaving her six-month-old and two-year-old in a car with the windows cracked last Thursday for at least 45 minutes as she sat in an interview for a potential job. She told officers that she was homeless, so she couldn't leave her children in the house, and she had no one else to watch them.

"She was upset," Sargent Mark Clark, Public Information Officer for Scottsdale Police, told WFSB. "This is a sad situation all around. She said she was homeless, she needed the job. Obviously, not getting the job. So it's just a sad situation."

Taylor remains in jail, an official from the Maricopa County Sheriff's office confirmed, and will likely remain there until her first court date.

It is undeniably very unsafe to leave a child in a locked car. Thirty-eight children suffer heat-related deaths every year from being locked in a vehicle, according to Kids and Cars. But Taylor's story raises an important issue: People in her situation are left with only bad options.

"It's reasonable to turn the lens back on us," Shahera Hyatt, Project Director for the California Homeless Youth Project, told ThinkProgress. "What did we do to not help her find childcare when she had that appointment?"
But wait, it gets worse. Here is her mugshot: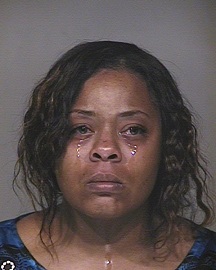 I'll give you all a second to cry, because even my acid corroded heart at ten sizes too small let me shed a tear. What a totally horrible situation.
There simply are no breaks when you are poor. Everything is more expensive, and you are in the worst position to deal with the additional expense. If you're poor, you probably live an area with a depressed economy, which means the schools are subpar. You probably live in one of the grocery graveyards (or whatever they are called), which means you not only don't have access to a variety of healthful foods, but you are paying double for crap at a convenience store. You probably don't have access to banking and deal with payday lenders and other frauds. On the odd chance you will get a loan, the APR will be astronomical. You can't afford to shop ahead and buy things in bulk, because you just don't have the money for the initial outlay, so when you buy toilet paper, you aren't hitting Costco, you're paying triple to quadruple price at a Bodega. You probably have to buy shitty appliances and clothes that deteriorate rapidly, and have to replace them constantly simply because they were crap to begin with, and in the long run, spend more money than if you had the capital to buy something decent.
And I could go on and on and on. But let's not forget the obvious one- if you are poor, you probably don't have a support system in which someone can watch your kids while you try to, in the term of Republican Paul Ryan Universe, pull yourselves up by your bootstraps. Basically, when you are trapped in this kind of poverty, the only way out is a miracle.
There has to be something the internet community can do for this woman.
*** Update ***
This fundraiser website for Shanesha has been verified, so go give if you can. Hell, maybe the internet can raise enough to find her a permanent residence and, god forbid, a cell phone so she can continue to look for a job.
We are a very demented and sad society, and not really very social, but maybe we can help a desperate woman and her kids out. Given how shitty everything is, I'd chalk that up as a win.
BTW- What are the odds we can, given this communities wide reach, find a lawyer in Scottsdale who will represent her for free so anything raised for this woman can be used to better her life and not killed in legal fees?