This:
The Pentagon says there were no U.S. military deaths in Afghanistan in March — the first zero-fatality month there since January 2007.
To put that into further context: this is the first month without U.S. combat deaths since March, 2003 — almost eleven full years. [via]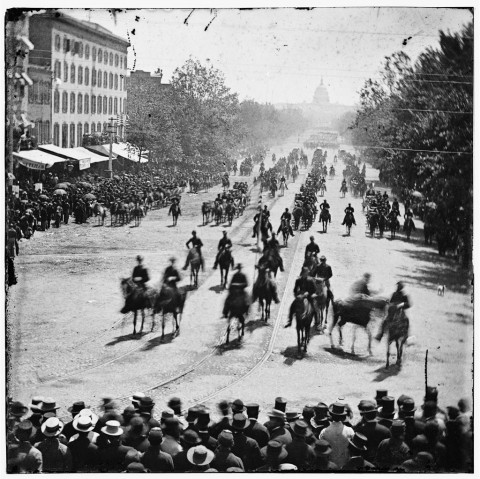 I won't repeat the line that's echoing in my head — the one John Kerry said of a different conflict.  But I'm thinking it.
One more thing:  US casualties do not write the whole story.  Iraq and Afghanistan are hardly free of conflict.  As we listen to the usual suspects talk war at every turn of events, it's not a bad thing to think about the last time we listened to their advice.
But I'm not going to go too far down that road in this post either.  This is a moment to be glad no one got the news this month, to hope that record will continue, and to spare a thought for all those who received that awful word over the last decade and more.
Image:  Matthew Brady, Grand Review of the Armies, 1865.  Thought of using this image, but couldn't bring myself to do so.  NSF those who've lost folks — or maybe any of us.