Shawn and I were going through the old photos, and we found this gem: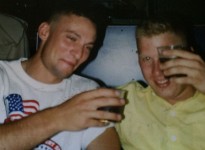 That's me and Shawn on the Cunard Princess (or Princess 2, I can't remember, it was 23 years ago), which during the first Gulf War was docked in Bahrain and used as an R&R destination for soldiers for a while during the conflict. Shawn and I scored a three day pass and were helicoptered there and spent a couple drunken nights and days. When we got there, we had to buy civilian clothing from the ship store because all we had were our BDU's (and we both felt naked without our LBE and personal weapons- it was like a running joke that we would make the other one drink when someone accidentally reached to check on their firearm- "DRINK MOTHERFUCKER, I SAW THAT!" Fucking sensitive items checks will make you nuts.) and wore the same outfits for three days. We just washed them in the sink every night and then ironed them in our little galley.
We would take a shuttle to this little outdoor pool that had a bar inside the pool, and spent the whole couple of days hanging out with a couple CWO chopper pilots and Navy officer flyboys. It was heaven, even though Bahrain has like 200% humidity.
On the helicopter flight back home, we all puked repeatedly, and when we landed in Kuwait City, Shawn and I had to go to the med tent and get multiple IV's because we were so dehydrated and it was like 0% humidity in Kuwait.
Good times. I would do anything to be 21 and doing it again. At times it sucked hard, but god damned these were some of the best times of my life. I was just so lucky I was in when I was in, and I didn't have to go through what guys have been going through since 2003.
And yes, I was drinking scotch.