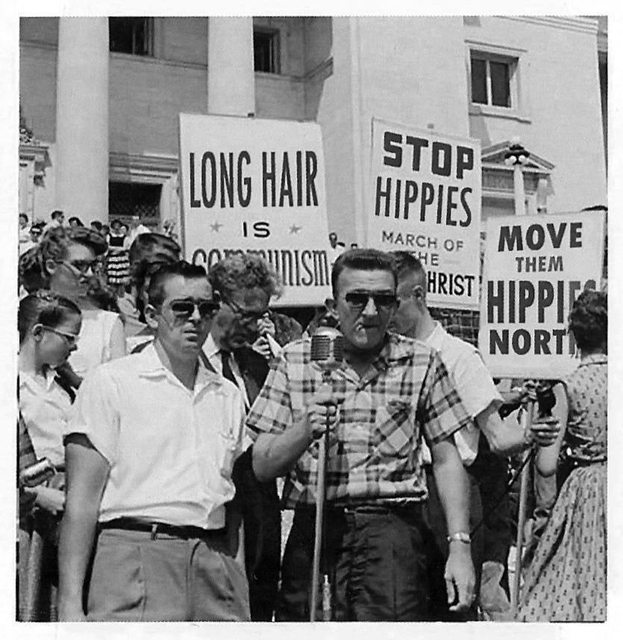 I find I enjoy the Internet a lot more as long as I stay away from Sully and his proteges, like Young Conor (pictured above in a group portrait of Dish interns). Unfortunately, the awful thing that was done to Brendan Eich keeps bringing those two clowns back into the limelight (here are a couple of excerpts).
Politics is such messy business for the principled conservative. Sometimes you must agree with the liberals. It's a necessary evil, like mass transit or the tiniest social safety net imaginable. But, in order to keep calling yourself a "conservative", you need to search under the couch cushions for your last Xanax and retire to a dark room with a cold compress as soon as liberals start exercising a wee bit of political power. So, if you have the delicate constitution of Mr. Sullivan or Mr. Freidersdorf, perhaps you should avert your eyes instead of reading the following couple of paragraphs.
The fundamental assumption these two are making–that Eich's dismissal was heavy-handed in part because the fight is over–is wrong. Gay marriage is not legal in most states. We might be in a Loving v Virginia situation where ultimately all anti-gay-marriage laws will be overturned, but that remains to be seen. So, going after Brendan Eich, a man who supported a constitutional amendment to deny the rights of a set of Americans, and who never recanted or showed an iota, scintilla or jot of regret about his bigotry, is quite consistent with the ongoing fight. After all, the goal is to give every American, not just a pundit who can travel to Massachusetts to have a picture-perfect wedding, the right to sit at the hospital bedside of their spouse and hold their hand as they pass into the great beyond.
Only a pair of wankers who've never set foot in a corporate setting would believe that stated corporate policies trump corporate culture and executive leadership. Corporate policies are barely worth the bits they occupy on some server in HR unless management is committed enough to explain itself when appearances contradict policy. In the case of Eich, again, he reaffirmed the policy but didn't explain his actions. He promised to "show, not tell" and he expressed "sorrow at causing pain". The question isn't whether he's "sorry if he hurt your feelings"–which ain't no apology–but whether he still thinks that gay Californians who are not in his employ should be denied a civil right. That question is still unanswered.
It's important to emphasize that one of the final straws with Eich was OK Cupid redirecting Firefox users to a page advising them of the Mozilla situation. OK Cupid took a business risk to do that. Now, if Sully and the rest think Mozilla did wrong by firing Eich, they can either whine and cry about it, or they can take some political action by redirecting Mozilla users to a page that explains their position on the situation and asks them to run Chrome or IE. But they won't, and neither will Breitbart, Fox News or Red State (I just checked all three with Firefox). Unlike OK Cupid, they don't want to risk losing a tiny bit of traffic while their readers ask their grandkids to install a new browser on their PC.