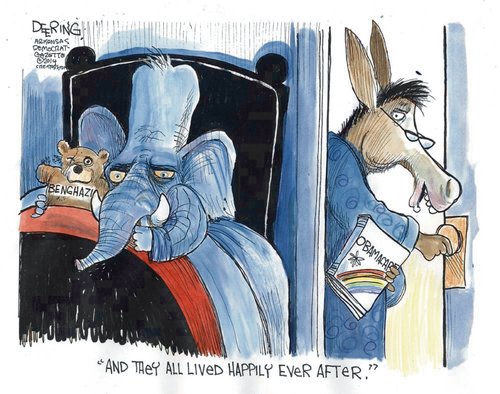 (John Deering via GoComics.com)
Professor Krugman, debating Ezra Klein's big Vox opener as to whether politics makes us equally stupid:
… What Ezra does is cite research showing that people understand the world in ways that suit their tribal identities: in controlled experiments both conservatives and liberals systematically misread facts in a way that confirms their biases. And more information doesn't help: people screen out or discount facts that don't fit their worldview. Politics, as he says, makes us stupid.

But here's the thing: the lived experience is that this effect is not, in fact, symmetric between liberals and conservatives..

… [L]et me pose this as a question: why are the two sides so asymmetric? People want to believe what suits their preconceptions, so why the big difference between left and right on the extent to which this desire trumps facts?

One possible answer would be that liberals and conservatives are very different kinds of people — that liberalism goes along with a skeptical, doubting — even self-doubting — frame of mind; "a liberal is someone who won't take his own side in an argument."

Another possible answer is that it's institutional, that liberals don't have the same kind of monolithic, oligarch-financed network of media organizations and think tanks as the right…
Me, I go with John Stuart Mill's observation: Although it is not true that all conservatives are stupid people, it is true that most stupid people are conservative.
There was also a chapter in Trollope's autobiography where he explained, sadly, that he found publishing a 'bipartisan' magazine impossible… because liberals would contribute to a publication that called itself conservative, but conservatives would angrily denounce queries about contributing (or even reading) any publication that had even the faintest taint of 'liberalism'. So, in that sense, one has the idea that the situation hasn't (dare we use the word) evolved over the last hundred and fifty years…
*******
Apart from staring into the abyss, what's on the agenda for the day?