The RedState brain trust has come up with some stunningly dumb ideas for activism over the years, including the brilliant notion to send bags of salt to Republican Senator Olympia Snowe of Maine (during winter! thanks, dudes!) to protest something or other. Then there was that time they proposed "Operation Leper" to punish any conservative who dared call stupid Sarah Palin "stupid." But the tidal wave of stupid soon stranded RedStaters on their own virtual Molokai.
Today in own-goals, they've attempted to "parody" OkCupid's protest of the Brendan Eich appointment as Mozilla CEO, but whoops! — they've stepped on their own dicks again! Here's the OkCupid splash screen that greeted Firefox users for Eich's days-long tenure: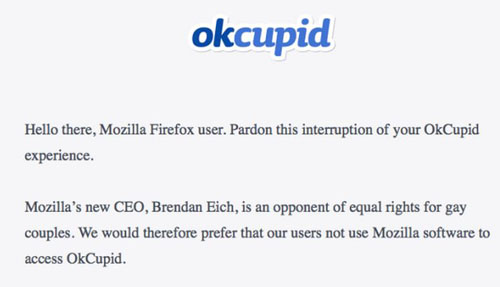 And here's RedState's:

[Text: "Careful now! This website could not be displayed by Firefox because it is not consistent with Mozilla's corporate values. May we suggest visiting another site instead? Click anywhere to continue."]
Notice anything different, aside from RedState's Commodore 64-generated graphics? Well, RedState is lying! See, Firefox hasn't banned users from visiting RedState. RedState is animating a very clumsily constructed strawman to tell its own visitors to piss off!
I'd sue the fuck out of them if I were Firefox. Or else just laugh at the dumb, dick-stepping bastards' latest round of fail. Yeah, probably that.
ETA: Culture of Truth in comments brilliantly identified the True Spirit Name of this RedState campaign: OkStupid. Well played, CoT, well played!