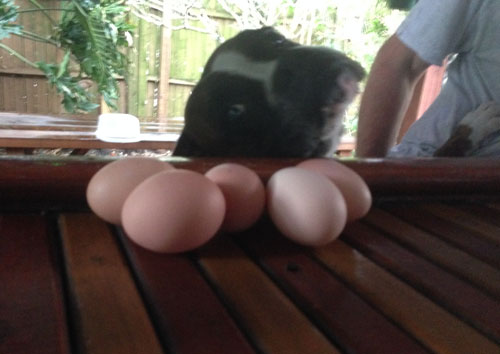 I've shared with you lucky folks my dogs' disgusting penchant for eating chicken poop. We allow our flock to free-range each evening, keeping the dogs in the house or on the other side of a fence to prevent them from harassing / eating the chickens.
But as soon as the chickens tuck themselves in for the night and we latch up the coop and allow the dogs to roam that portion of the yard again, the hounds search for chicken droppings and hoover them up as if each turd were the finest beluga caviar. Weird.
The eggs pictured above were fresh from the hen-chute (i.e., unwashed) and must carry a faint whiff of chicken-butt detectable by the pictured dog's highly developed olfactory system. This inspired her to stand on her hind legs to identify the source of the heavenly scent. Gross.
Please feel free to discuss more pleasant topics.