I expected the post Open Enrollment CBO estimates for coverage costs to show a significant increase over their February estimates:
the CBO headline will not be that Obamacare costs $9 billion more than projected, but $13 or $15 or $20 billion dollars more than projected.  The CBO will probably not alter their out-year projections for total uptake as they'll model the person that they assumed would have skipped out on 2014 enrollment but entered the Exchange in 2015 will have just entered a year "early". 

The increase in cost will be due to two factors.  The first is increased subsidy costs.  80% of the people on the Exchange qualified for subsidy.  If that ratio holds, that means an additional 800,000 to 1,200,000 people will be getting monthly subsidies.  The second factor is that fewer people will be paying the mandate penalty.  The absolute lowest revenue loss would be $100 million dollars, probable revenue loss is $300 to $500 million dollars. 
I was really, really wrong!
The new CBO report just was released and here are the highlights:
Relative to their previous projections made in February 2014, CBO and JCT now estimate that the ACA's coverage provisions will result in lower net costs to the federal government: The agencies currently project a net cost of $36 billion for 2014, $5 billion less than the previous projection for the year; and $1,383 billion for the 2015–2024 period, $104 billion less than the previous projections (see the figure below).

. As time has passed, the period spanned by the estimates has changed. But a year-by-year comparison shows that CBO and JCT's estimates of the net budgetary impact of the ACA's insurance coverage provisions have decreased, on balance, over the past four years (see the figure below). That net downward revision is attributable to many factors, including changes in law, revisions to CBO's economic projections, judicial decisions, administrative actions, new data, numerous improvements in CBO and JCT's modeling, and lower projected health care costs for both the federal government and the private sector.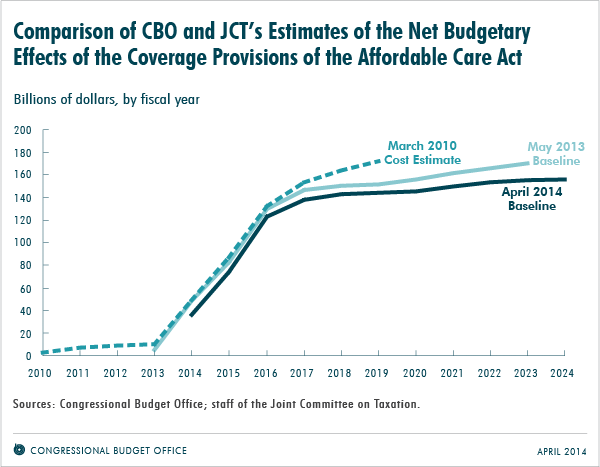 It's almost like this thing is going to work at both increasing coverage and flattening the growth curve of healthcare spending.