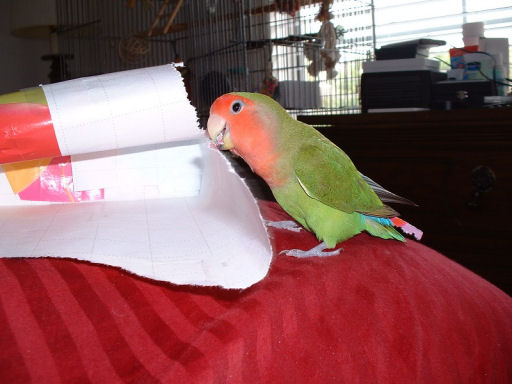 From commentor Parrotlover77:
I know you guys post pet memorials sometimes, so I'm really hoping you can do one for the most awesome bird to ever take flight on this world of ours.

His name was Wylie. He was a peach faced lovebird. I adopted him 19 years ago when I was 18. So if you do the math, you can see that I've had him for more than half my life, which is a heck of a thing. When I adopted him, he was about two months old, so I was lucky to have him for basically his whole life. He passed away last week – one day after my birthday, in fact. It's like he held on to make sure it wasn't actually on my birthday.

I was at work when I got the call. My wife said I needed to come home immediately, something happened to Wylie. When I got home, she was cradling him, in tears. He was gone. He passed away quickly and quietly. I would find out from the necropsy at his vet that he died from a heart attack due to severe atherosclerosis (hardening of arteries due to plaques).

There wasn't anything we could have done. It was just old age catching up to him. Nineteen is pretty old for a lovebird. In the wild they live typically 5-8 years. Modern veterinary medicine along with amazing formulated pelleted diets has increased that lifespan tremendously – and I am truly thankful!

It wasn't entirely unexpected. He had been in decline since last fall. It started with his flight skills declining. He couldn't coordinate nor fly as long as he used to. Then he apparently had a stroke which left him with a permanent head tilt. But he persevered! His attitude was amazing. He was always so happy. He would still preen us and still do his darnedest to follow us around the house, even though he couldn't zip around like he used to when he could fly. It was just his time. And he accepted it. That morning I had him out and he was sitting on my face, preening me, chirping and making the sweetest sounds. I'm glad I had him out that morning. He was so loving. It's like he knew.

He really was an amazing bird. We would call him our "little green puppy dog" because he would follow us around the house like a dog. He loved the both of us so much. He always cuddled on my shoulder when I would work on my laptop or play video games. He would do the same for my wife. He loved being scratched on his head. He hated being touched on his tail (which led to amusing games of chasing his tail with our fingers while he would run around the bed and playfully threaten us with his beak). He would always strike at and protect us from the blanket monster (our hands making movements under the blankets). And he smelled so good — SO GOOD. Fellow parrot owners know what I'm talking about. Birds smell amazing. And this bird had the most pleasant scent of any bird I have ever met. I can only compare it to clean laundry, fresh out of the dryer.

His favorite thing in the world was taking a nap in our hands. If you turned your hand over and cupped it slightly, he would run over and settle right in, fluff his feathers out, and take a nap. It was so cute. Sometimes, when I was lucky, he would settle in on my ear the same way as my hand while I laid down. He was the best nap partner. He would shred any paper that got close to his beak. To keep him from shredding important stuff, we had a box on top of his cage full of printer paper. It never lasted very long. And the shreds made pretty good packing material. We joked that he could get a job shredding confidential documents. He also loved shiny things. Nothing activated his playful aggression more than taking a shiny object getting near his beak. He'd make the happiest sounds and go crazy "attacking" it. He was so playful.

He helped me through some incredibly tough times. He was always there for me, as all pets do. Loving me unconditionally. And he knew when we were upset because he'd give us extra attention when that was the case.

We just miss him like crazy.

I hope he's diving deep into a huge bowl of sunflower seeds (his favorite snack) over the rainbow bridge.