This is a long, rambling post that contains crappy photo illustrations and is depressing in some spots. You might want to skip it. See? I made it short above the fold.
Still with me? Okay.
Blood Moon, Plague of Frogs and Boxer Dogs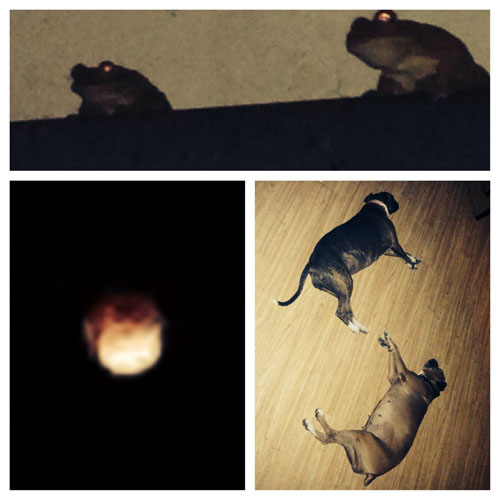 The frogs in the upper frame live behind the shutters on my house. I think fake shutters are stupid, but I hesitate to remove them for fear of causing a frog-a-lanche. We see scads of them emerging from behind the shutters in the evenings.
I have a difficult history with the local frog population. I like frogs just fine and am not afraid of them. But I don't like it when anything hurls itself at me unexpectedly, and I seem to attract frogs like a magnet. Seriously, one drops onto my head at least quarterly.
The mister claims I am their deity and speculates that they have composed sacred songs and a complex mythology around me. I don't believe that. I just wish they would stop jumping on my head or at least jump on someone else's head every once in a while.
The picture in the lower left of the above frame is a photo of the moon during the eclipse in the wee hours this morning. I took it with my phone, and I suck as a photographer, so it's a crappy picture.
But there's definitely a demon face in it. That doesn't surprise me at all. For well executed eclipse photos, check out BillinGlendaleCA's comment here.
The picture in the lower right frame is of my two fat boxers forming the letter "S" — possibly for "sleep"? Or "steak"? If the Westminster Kennel Club ever holds a synchronized sleeping event, those two will have a shot at a ribbon.
How Much Does It Hurt?
As regular readers know, I lost my mom in late February. She was in her mid-60s, healthy and active and taking care of her own ancient mama. But within a month of learning she had a heart valve issue, she was dead.
This pain assessment thing was on a white board in one of Mom's hospital rooms:

During the first few of weeks of her illness, we still believed Mom would eventually be okay. Now we wonder if she knew all along she wouldn't make it. She was a cardiac care nurse until she retired a couple of years ago, and a damn good one, so it's probable that she knew.
But anyway, during the first few weeks, she was awake and talking and joking with us like always. We made fun of the pain assessment images. My brother drew flames on the far-right image once and replaced "hurts real bad" with "kill me now!"
I don't know why I took a picture of it. But after Mom died, I'd see it on my camera roll and associate it with the intensity of my grief, wondering if there was some way to walk that back down to a manageable level.
So far, I've found it doesn't work that way. "This can't be real" has been replaced with, "This sucks, but it's real." That's progress, I guess? But it still "hurts real bad."
I visited my mom at her house a few weeks before she fell ill. She was always working on some project, and at that time, she was making a "barrister bookcase" for my home office, even though I am not a barrister. It's a bookshelf with glass doors that swing out and slide up under the shelves.
She had painted the bookcase trim my college colors and etched my full name (including my much-despised middle name!) and year of graduation on one of the glass doors. However, when she installed the glass doors, somehow she hung that etched one upside down, and she was furious with herself.
I told her not to worry about it — I said it was fun and quirky to have it upside down and that my middle name would be less noticeable inverted. But she wouldn't let me take it back home; she said she would fix it and then I could have it.
After she died, my siblings and I were going through some of her stuff, and I found the shelves under a shed attached to her workshop. She had taken all the glass doors off, and the shelves had been somewhat exposed to the weather, so they will need restoration.
I took them back home, and now I have to figure out how to fix them and put it all back together. I guess I'll touch up the paint and hang the glass door with my stupid name right-side up.
I'm not very crafty, but my daughter is, and we'll work together on the shelves to make them look nice. There's nothing else we can do.