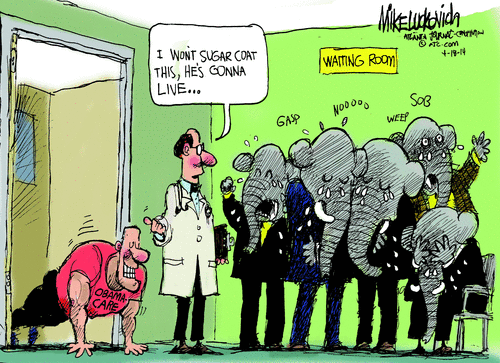 (Mike Luckovich via GoComics.com)
For your forwarding-to-the-low-information-friends&family pleasure. Jon Chait, at NYMag:
… For all the Sturm und Drang, implementing a successful health-care reform was not actually very hard, for the simple reason that the United States started with the worst-designed health-care system in the industrialized world. When you spend far more on health care than any country, and you're also the only advanced democracy that denies people access to medical care, it's incredibly easy to design a better system.

Obamacare has two basic goals. One is to reduce the explosive rate of medical inflation, and the other is to give all citizens access to medical care. Medical inflation is indeed falling much faster than anybody expected four years ago, to its lowest level in half a century. And affordable health insurance is now available — insurance companies can't use medical underwriting to exclude or charge prohibitive rates to people who need medical care, and people with low incomes get subsidized. It would be great if lots of people took up the coverage, but the simple availability of it is the main goal.

The health-care system still has lots of problems, beginning with the 5 million poor Americans cruelly denied health care by red state Republicans. Compared to an ideal blue-sky health-care system, we still fall short. What's beyond question is that Obamacare has effected a revolutionary improvement by its own standards…

The triumphs of Obamacare were designing a plan that could acceptably compensate the losers and generating the resources to cover the uninsured without alienating those with insurance. Designing and passing Obamacare was a project requiring real policy and political genius. Implementing it was easy.
And Professor Krugman, at his NYT blog, "What Eight Million Means":
… How did enrollment manage to surge so impressively despite the initial debacle of healthcare.gov? Obviously they fixed the website; but the broader issue, as Sarah Kliff rightly points out, is that being uninsured is truly terrible. Uninsured Americans really, really wanted coverage, and they weren't ready to give up.

Kliff doesn't make this point too explicitly, but this diagnosis has another crucial implication: the benefits of Obamacare, for all its imperfections, are immense. Millions of people who lived extremely anxious lives now have far more security than before. Compared with those benefits, the complaints of some already insured people that they have less choice of doctors than before, or that they're no longer allowed to retain minimalist plans, look like whining. (And of course not one of the more serious-sounding stories about soaring premiums and all that has held up under scrutiny.)

And speaking of whining, the GOP response seems to be to make every possible insinuation to the effect that the numbers are somehow fraudulent. I actually don't think there's a game plan here; their whole position was premised on the inevitable collapse of health reform, and they have no plan B.