Please keep my friend Holly Hillgardner in your thoughts. She is one of the sweetest people I know- young, energetic, full of life, always smiling and best friends with a lot of my close friends, a good member of the community, a yoga instructor who really gets engaged with the students,, and a solid member of the community. She is only in her 30's and had an aneurysm today and will have emergency surgery tomorrow morning at 8 am.
Happy thoughts, Holly. Pull through, god damnit, please pull through.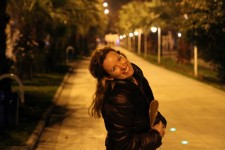 I'm counting on you guys to help her pull through. She's best friends with my buddy Brooke Deal, and she's just an effervescent fun person with loads of energy, big smiles. We have a small circle of friends around this age who hang out a lot, and she is in this circle, and I am actually kind of distraught at the moment.