If I were a betting man, I'd go with the 4.9 degrees Celsius trajectory (the orange represents high emissions, green medium, yellow low, and blue very low).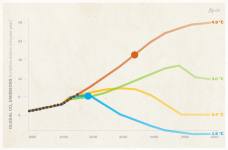 But Al Gore is fat and Roger Pielke's critics are shrill, so what's the biggie?
I can't think in Celsisus, but nine degrees Fahrenheit is a lot to this unserious person.