Very short notice this time, folks, but once again, I'm doing the funny intertube-radio thingee.  Today's broad/podcast brings io9 founding editor Annalee Newitz in to talk about her book Scatter, Adapt, And Remember.*
We'll be talking at 5ET, 2PT (about an hour and half from now).  Listen live or later on Virtually Speaking Science, or join us in the virtually live studio audience at the Exploratorium's joint in Second Life, where an implausibly tall and fit Levenson avatar will interrogate Annalee's robot self.
The focus of our chat — death, destruction, and the possibility of slipping the noose.  Annalee's book looks at what it will take for the human species to survive another million years — avoiding the threat of mass extinction along the way.  Her book really does two things.  For one, it provides a very good short introduction to the science of mass extinction, what we know and how we've figured out about the five times in Earth's history that ~75% or more of all species on the planet went caput.  Then in the second half, Annalee examines the threats humankind have already confronted, looks at what that history tells us about current dangers, and writes about the ways we can now think about near and long term escapes from the worst outcomes.  It's a combination (as you'd expect from the mind behind the "We Come From The Future" brigade over at io9) of bravura science writing — imaginative and rigorously grounded accounts of current inquiry — and plausible, exciting speculation.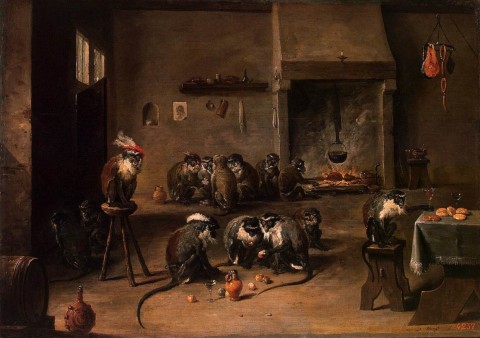 To emphasize:  this isn't a work of speculative writing, fiction or non-fiction.  It's an argument that includes speculation, given its weight through the third element of  Annalee's title:  "Remember."   There's a beautiful section in the middle of the book in which Annalee discusses the science fiction of Octavia Butler.  There, she grapples with the nub of the book.  Whatever actual path(s) we take, should descendents of 21st century humans persist for geologically noticeable swathes of time, they will do so as one or many species increasingly divergent from our own.  What will be human about them, Annalee argues, will turn on the power and persistence of memory.  That sounds exactly right to me.
Come join us for the chat.  Should be fun…and more than that too, I hope.
*You can take up that title's Oxford comma-hood in the comments, if you're that kind of person.  Me, I'm an agnostic.
Image:  David Teniers the Younger, Apes in the Kitchen, c. 1645.