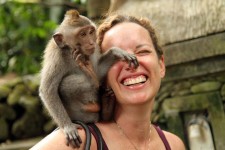 Thanks for all the questions about her status. I just spoke with my friend Kim, and got a lot of details on what happened. Up until a little bit ago, every conversation was basically focused on how is she right now, and I never had the backstory.
Apparently, she woke up before breakfast, told her boyfriend/fiance (I'm unsure of their status because I basically don't give a shit what other people are doing in their relationships and my eyes glaze over. I mean, if someone is married, I get it, but I just don't even try to figure out the nuances in other relationships. Not happening in my bedroom, so I don't give a fuck) she had the worst headache in the world, stood up, fell over, and started convulsing. Her significant other rushed her to the hospital.
According to Kim, she had a basal aneurysm near the base of her skull (and if that is redundant, I apologize), and this morning they attempted to do what is called a coiling procedure, but that was unsuccessful. The good news is that she was healthy enough to undergo the procedure and her lungs and heart are fine, and the bad news is it failed and they will have to do a more invasive clipping procedure tomorrow.
The biggest silver lining in all of this is that this happened while she was in NYC with her SO, and not here in Bethany, because she is now in the center of the universe when it comes to excellent health care. If you are going to have an aneurysm, do it while being white and insured in NYC or in the lobby of Johns Hopkins in Baltimore. Tomorrow, a surgeon who is a renowned expert in the clipping procedure (I forget her name) will be performing the riskier procedure on Holly, so she really is in the best hands in the world.
The other bright spot is that Holly was alert and communicative, able to write notes and capable of understanding what was going on around her and recognizing speech and responding to people, so that is just great news. It's funny the things you think about, though. I was talking to Kim and one of the first thoughts I had was "I wonder if she paid her water, gas and electric. Should we try to pay that for her?" "Should I go tell the Postmistress tomorrow to hold her mail?"