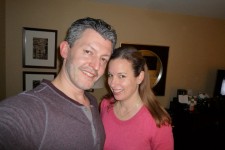 Got off the phone with Holly's SO, and we chatted for fifteen minutes, and man, the guy is so frazzled from lack of sleep, you could just feel the anxiety and fear and what not in his voice. The whole time I was talking to him all I could think was this poor guy needs a massage and a hockey puck sized xanax and a featherbed with egyptian cotton sheets.
At any rate, according to Greg, their surgeon is a no bullshit guy who does not mince words. For some reason, I thought her surgeon was female, but I guess I got those details wrong. Still do not know his name, but she is in the Long Island Jewish Medical Center (I think). Apparently the guy has 30 years of experience, is a little bit gruff, but very direct. When Greg told me that my reaction was "That's exactly what you want" and he started to talk about how much everyone loved the guy, even though he was kind of blunt prick. Deep down, they knew he cared. You'll understand why at the end of this post.
At any rate, after the clipping procedure yesterday, Greg approached the surgeon late last night and asked him what he thought and to just be honest with him. The doctor looked at him and said (and I am paraphrasing) "I didn't want to do this surgery. It made me uncomfortable. It was a very bad thing in a complicated place, and I was hoping we could handle it with the coiling procedure. Again, I did not want to do this surgery because it would have been much better to have the other procedure work. Again, this is a complicated procedure, and there were complications. There was a lot of bleeding. Her vitals and everything were good, her CT scan was good, but I honestly don't have anything to say definitively, and I can not tell you whether I feel good or bad about her outcome. I don't know."
That was at about ten o'clock last night, and Greg went home and had a restless night, went in at 8 am, and the surgeon had already been there at 6 am. Greg talked to him, and the surgeon basically admitted he couldn't sleep so came in early to check on her, and her vitals were all solid, and he woke her up and even though she was heavily sedated, was able to give thumbs up and wiggle her toes, and the neurosurgeon said those were both "complex neurological functions" and that for once he felt positive and told Greg that "We're in the game."
I think words like that from a guy like that are reason for optimism, as did Greg and everyone else, so I'm in a good mood. Greg went and saw her, and she got super excited and tried to talk, but she was so excited that it was not safe for her, so they upped her sedation for the rest of the day and he stayed away for the rest of the day, sitting in the lobby. What a cruel hoax life can sometimes be- they both want to be together, but it may kill one of them. Her face is apparently very swollen from the surgery, and she had her head shaved, and she is still in really thick, but it looks like things are positive at this point.
My good buddy Tammy worked at a cancer center as a fundraiser and is sending me some links for some super nice scarves, her car is home from the airport, her mail is under control, and now the only thing to do is to cross your fingers.