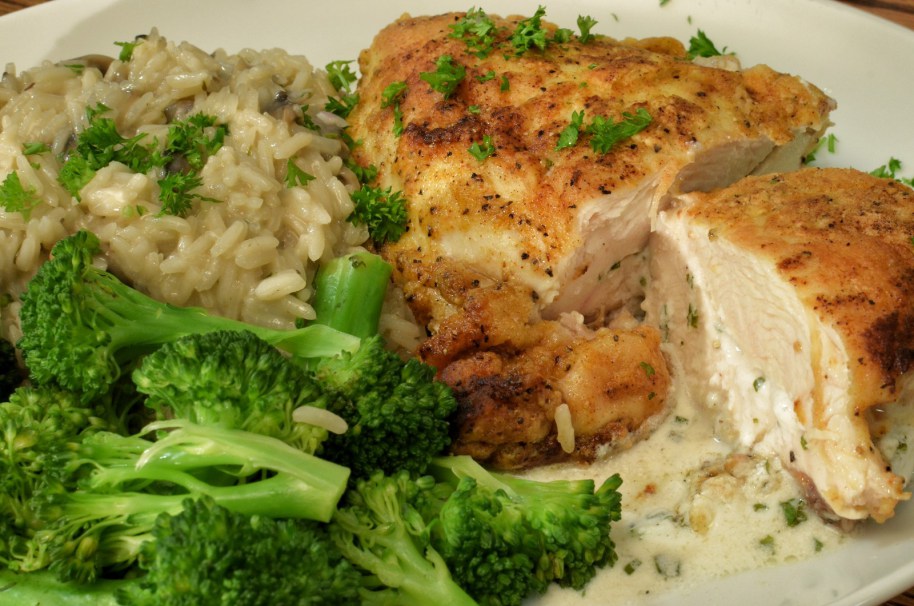 From our Food Goddess, TaMara:
I'm neck deep in a painting a porch glider before the weekend rains come, so this will be quick tonight. When JeffreyW posted the photo above, I knew I wanted to try the recipe, so it became the featured recipe tonight.

He also posted this delicious recipe this week: Moroccan Spicy Lamb Soup, pictures and recipe here.

And earlier this week, I made one of my favorite pasta dishes, Pasticcio, full dinner menu, recipes and shopping list here.

It's meager offerings, so spice things up and share some of your favorite recipes in the comments. You know what I'm doing this weekend, what's on your to-do list? And if I missed a recipe step in my haste, let me know in the comments and I'll fix it.

For tonight's featured recipe:

From JeffreyW:

I'm on a chicken recipe spree! At least until I run out of chicken breasts, anyway. This recipe from Emeril Lagasse looked pretty good, with the added bonus of the side dish calling for the truffle oil that rounded out a recent online order I placed a while back and was looking for a place to use.

I didn't have the proper arborio rice so I used the jasmine variety that I do keep on hand and has worked for me before. Instead of Parmesan I used fresh grated pecorino. The mushrooms were the usual supermarket white buttons, nothing fancy. I think I can take or leave the truffle oil, it not adding any particular enjoyment for me but I'll wait a while and try it elsewhere before I make up my mind.

The goat cheese filling worked very well, every time I made a cut a little more oozed out and was quickly mopped up. I used a lot more garlic than the recipe wanted.

Adapted from Emeril:

Goat Cheese Stuffed Chicken
4 (6-ounce) boneless, skinless chicken breast halves
3 ounces goat cheese
2 teaspoons unsalted butter
1 1/2 teaspoons minced chives
1 teaspoon minced parsley leaves
1/4 teaspoon minced fresh thyme leaves
1/4 teaspoon fresh lemon juice
1/4 teaspoon minced garlic
Salt
Freshly ground black pepper
1 cup all-purpose flour
1 tablespoon cajun spice mix or Emeril's Essence
1 large egg
2 teaspoons water
1/4 cup clarified butter or vegetable oil
Mushroom Risotto, recipe follows, if desired
Julienned carrots, accompaniment, recipe follows
Chopped fresh parsley, garnish

Preheat the oven to 350 degrees F.

With a chicken breast flat on a cutting board, using a sharp knife, about 1/3 of the way down the thick side, cut a deep pocket horizontally into the center of the meat about 3/4 of the way down, being careful not to cut through to the other side. (The pocket will be about 2 1/2 inches long and 1 1/2 to 2 inches deep.) Repeat with the remaining breasts. Wash hands well.

In a small bowl, mash together the goat cheese, butter, chives, parsley, thyme, lemon juice and garlic. Season with a pinch of salt and freshly ground black pepper. Divide into 4 equal pieces and form plugs to fit inside the chicken breasts. Insert 1 into each breast and press the edges of chicken meat to seal. Lightly season with salt and freshly ground black pepper.

In a large shallow bowl, combine the flour and the Essence. In another bowl, beat the egg with the water.

One at a time, lightly dust the chicken on both sides with the flour, then dip in the egg, shaking to remove any excess. Place again in the flour and turn to completely coat, shaking to remove any excess. Set aside.

In a large, oven-proof skillet, heat the oil over medium-high heat. Add the chicken and sear until golden brown, 2 to 3 minutes on each side. Place the pan in the oven and bake until the chicken is cooked through, 7 to 10 minutes.

Remove from the oven. Arrange the risotto in the center of 4 plates and place the chicken to the side. Arrange the carrots along the bottom of the plates, and garnish with parsley. Serve immediately.

Mushroom Risotto
5 to 6 cups low-sodium chicken broth
1 tablespoon olive oil
2 tablespoons unsalted butter
1/2 cup finely chopped shallots
1 teaspoon minced garlic
12 ounces assorted mushrooms washed, thinly sliced,
2 cups arborio rice
1 teaspoon chopped fresh thyme
1 cup dry white wine
1/2 teaspoon salt
1/2 teaspoon freshly ground black pepper
1/2 cup heavy cream
1 cup fresh grated pecorino.
2 teaspoons chopped fresh parsley leaves
1 to 2 teaspoons truffle oil, optional
4 ounces prosciutto or Serrano ham, thinly sliced

In a medium saucepan, bring the stock to a simmer over medium heat. Reduce the heat to very low to keep hot.

In a large heavy saucepan, heat the oil and melt the butter over medium-high heat. Add the shallots and garlic, and cook, stirring until fragrant and soft, about 3 minutes. Add the mushrooms and cook, stirring, until wilted and their liquid is evaporated, 4 to 5 minutes. Add the rice and cook, stirring constantly, until the grains are opaque, about 1 minute. Stir in the thyme. Add the wine and cook, stirring, until nearly all evaporated. Add 3/4 cup of the stock, the salt, and pepper. Cook, stirring constantly, until the stock is nearly all evaporated. Continue adding more stock 1/2 cup at a time as the previous addition is nearly absorbed, until the rice is tender and the risotto is creamy, 18 to 20 minutes. Stir in cream, 1/2 cup of the cheese, and the parsley and mix well.

Remove from the heat and adjust the seasoning, to taste. If desired, stir in truffle oil to taste.

Serve immediately, topping each portion with a sprinkling of the remaining cheese and ham.