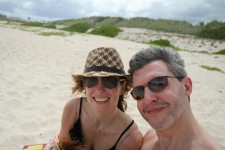 Just got an email update from Greg, and this is just great fucking news:
Today good and righteous seemed to win over circumstance. Holly woke up early and the respiratory therapist wanted to remove her intubation tube. He took it out, and immediately she began to talk and ask for me. I was en route, and once I arrived, we proceeded to chat for the next 11 hours in spite of the fact that she desperately needed sleep but could not get comfortable. It was a funny, weird, strange, scary day but everyone says we should all be encouraged.

She was able to drink some water and even had some dinner (think baby food) that she probably ate too fast and made her a bit sick. She is having Vaso spasms, which is normal but can be a pre-cursor to a stroke. She has what appears to be ICU Psychosis, and her heart is still not optimum after the multiple traumatic situations, but again, it was a good day. As for the ICU Psychosis, it's not uncommon, but scary. She's hallucinating and is paranoid. She's not frightened terribly, but it's really weird behavior. To give you an idea of the day…

Some of the more fun/smart things she said:

I can't bring in my dissertation for them to read. I think they'd have trouble with Mirabai and Hadewich
Tolstoyism isn't really a religion, it's more a social movement
How can i touch your face ? I only have one eye (the other is swollen shut) and no depth perception.
I'm really having trouble with one of my religion classes, they just don't get it.
I think my big old butt knocked out an important tube when I shifted.
We gotta break outta this place. I'm serious. We need a plan.
What kind of socks should I have people send (I asked) ? I need Smart Socks. i need to be successful in my field.

Some of the more ICU Psychosis things:

Can you get me that beer on the shelf ?
I need you to e-mail the consulate in Thailand. I think we're being spied on.
I think a woman just came in here and stole your iPad.
There's a man looking through the window and he's pointing at me.

Hopefully, you get the picture. She was terribly uncomfortable and just can't rest which makes me sad. They can't put her on sedatives or any heavy painkillers. She has a headache and she's sore. She's already sick of her bed and is limited in the positions she can stay in. She seems to like company thus far but hold off on visitors for some time.

There always remains the threat of complications in the coming hours/days/weeks, but everyone whose name we brought up (just a few today) she remembered. Everyone she saw, she remembered. She got plenty of things wrong but they were not deemed critical. She knew her name, her birthday, the president, Mitch McConnell, the year, etc. She had a tough time grasping she was in long island and why, but she knew she had a migraine headache earlier this week. They want her to know, so they were a bit blunt and it scared her a bit. She kind of looked at me sadly and wanted me to answer the doctor's question. But we told her, and she accepted it well. Pray for her to be able to rest comfortably through the night. It's what she needs most. We can worry about baby steps forward tomorrow but she really needs a good night sleep.

Her personality was Holly. She was smart and funny and beautiful. Think a really happy, sleepy drunk, who's a bit paranoid. That was Holly today, first day out of five harrowing, dangerous days. It was encouraging.

In all, it was a very good day I am told, and I have to trust in the professionals.

Thanks for all the continued love and prayers.
Greg
I had never heard of ICU psychosis before, but I imagine it is a more extreme and long-term version of what I went through in recovery after my shoulder surgery, when my mother and the nurses always seemed to be cracking up at the things I was saying. I have no memory of what I said deep buried shit I want no one to know that I inadvertently revealed, and I really do not want to know for my own sanity. Kind of like the real life corollary to the notion that if you are my friend and find me dead in my house, before you call 911 you will smash all of my computer hard drives.
At any rate, this is really great news, and I am just thrilled. I also love the dissertation remarks- my mother and I were just joking a couple weeks ago how at least once a week we have a nightmare that we forgot to turn in our thesis or forgot to turn in grades or something. I'm sure a lot of you can empathize.