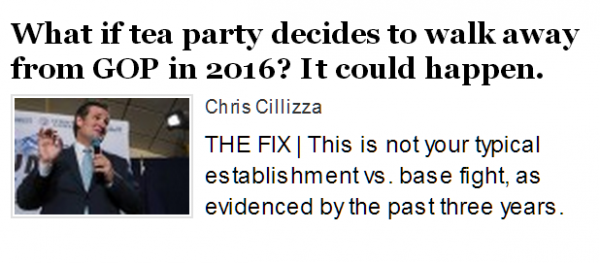 It's almost as if Chris Cillizza's purpose in life is to administer life-saving resuscitation to every dumb beltway meme that's on its last gasp. Today's case in point includes this little bit of hackery:
[…] A March Washington Post-ABC News national poll showed that while tea party supporters are more Republican than Democratic, they are far from monolithic for the GOP.  Thirty eight percent of tea party supporters identified themselves as Republicans while 14 percent called themselves Democrats. The biggest chunk — 39 percent — said they were independents. (The party ID among all adults in that poll broke down this way: 30 percent Democrats, 22 percent Republicans and 40 percent independents.)
I followed Chris' link to the poll and the crosstab of party registration of tea party supporters he cites was not included. However, the overall poll was of 1,002 adults, 8% of whom said they "strongly" support the Tea Party, so Chris' little what-if is based on the party registration of 80 Tea Party members. But, even if that crosstab were of any statistical significance, the obvious question is where the "Democrats" who are Tea Party members live. I'll bet that most of them live in the South, and that they are old, so the "D" after their name is a relic from pre-Southern Strategy days. But acknowledging that the Tea Party is a bunch of old, white, male racists who have been voting Republican for 30 years and have been a key part of the Republican base since they were courted by Lee Atwater isn't as fun as wondering if they'll secede from their natural home party.