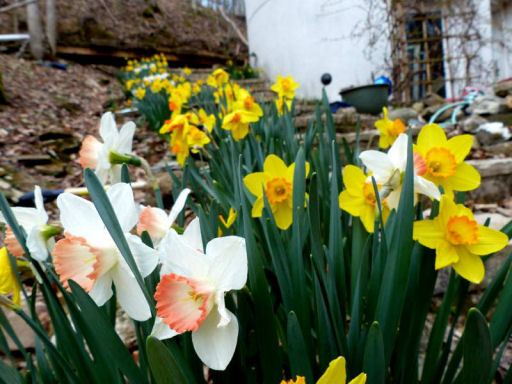 From commentor JR in WV:
I thought I should send you a few pictures of our WV woodland shade perennial gardening project, since it is quite different from yard gardening. Our house is right in the woods, in a south-facing cove on our wooded "farm" in south-western West Virginia.

We've been lucky enough to live here for about 35 years, at first in a "jenny lind style" board house which had no utilities when we bought the place, and then since 1994 in the house we built in the woods. Because of the dense forest, we can only work with shade tolerant plants. Because I'm lazy in some ways, we mostly work with native perennials, some of which do better than others.

We have lots of moss covered rocks and boulders and such, native volunteer ferns all around like maidenhair ferns and sensitive ferns, ferns we've added over the years like Japanese ferns, violets and white violets, planted bluebells, trout lilly, aka dogtooth violets, trillium (red and white, giant and regular small ones too), ramps (which were once native, then harvested into extinction, and which I've reintroduced from more remote parts of WV).

I tried to transplant some native pink ladyslipper orchids from my parents' home (near Beckley) before we sold it. No sign of them yet, but they're a funny and exotic plant for W Va. They were thick in the woods around my folks place when I was a kid, but by the time I came home from the Navy there was no sign of them, and I assumed they had disappeared because of obvious big changes in the microclimate. But then 20 years later, there they were again, as thick as violets in a native lawn!

So I got a botanist from a local museum to collect some, because he was an expert in orchid propagation, and we collected a dozen, which we planted in areas as similar to their original home as possible. It's been nearly 10 years now since Dad died, and probably 8 years since we moved them. We're 1800 feet elevation lower than their origin, but the forest is very similar, hardwoods with little patches of pine woods spread around. So I still have hope that one year when the stars align there will be Pink Ladyslippers on our place.