This could be the blurriest, crappiest photo ever published on Balloon Juice, and by god, that's saying something. Or it could be a neo-Impressionist masterpiece that captures the essence of frolicsome animals: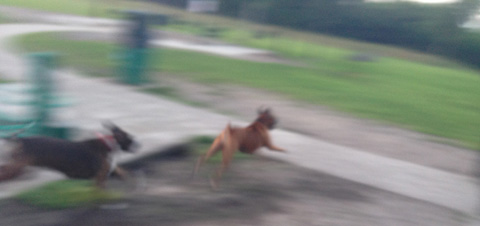 Some mornings, just at sunup, I walk my mutts to a dog park where I can unleash them and let them run at top speed in a straight line much further than they can in our partitioned yard. One of my dogs isn't fully predictable around strange dogs, so I only let them roam when other dogs aren't present.
Our town's dog park is laid out in such a way that I can see any approaching dogs in plenty of time to collect my mutts and depart before they arrive. The dog park was built with gubmint stimulus money.
This morning, I stepped in dog shit because some careless mofo neglected to clean up after his or her animal. Thanks, Obama!