Here's a great pic of Steve, the walking Ottoman, sleeping on the Ottoman, on one of the few occasions he, like my other pets, is not on Shawn's lap and not following him around the house like he is the pied piper.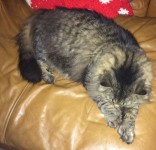 Shawn just shared this video with me of his pet squirrels outside his apartment in Ocean City:
No wonder my pets abandoned me for Doctor Doolittle. At least Lily and Rosie still sleep with me at night.