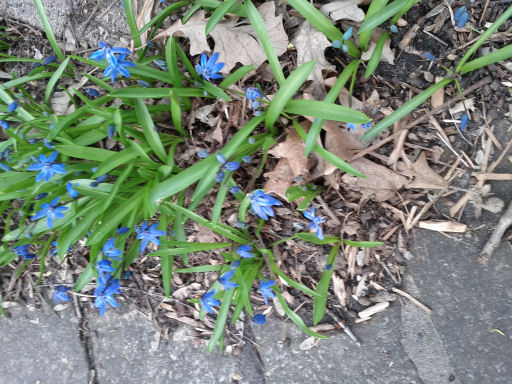 From commentor Schlemizel:
I have been very jealous of all the flower pictures on the Sunday garden chat. We just lost the snow out here on the tundra and survived 2 weeks of steady rain (not an exaggeration). Got out today to uncover beds.

The attached are flowers I only know as "snow bells" they occasionally pop up before the snow is even all gone but are late this year.
I think they're Siberian squills. Anybody else got an opinion?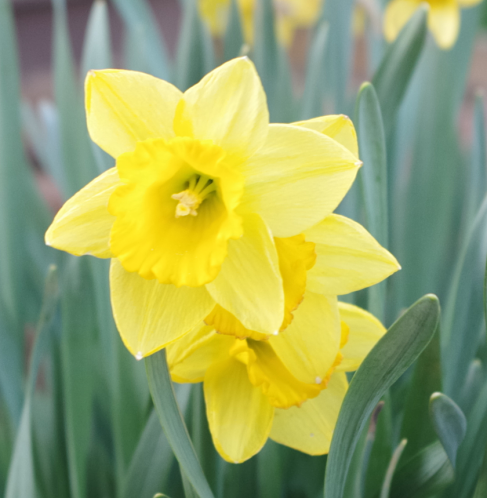 From commentor Max:
The daffodils have come. And also, now gone. This is from last week.

I picked up what I thought was a cheap single pot of purple petunias. I actually got a cheap six pack of pansies. Now I have six potted pansies. OK, whatever.

I actually prefer petunias, so I got a large single pot of them, not so cheap. Since I already had regular purple, I went with this color.

[Picotee!]

The little yellow flowers that I put in pot last year and which promptly stopped flowering and then spent the winter in the basement, looking not at all like a flowering plant, has decided to flower now, just in time to go into the raised bed. (Coreopsis?)

I get lots of these purple flowers in my backyard every spring. I believe the colloquial name for this plant is 'a weed'. But it's nice weed. (Wild violets, aka 'the lawn fanatic's nightmare')

Maybe by next week so of my peppers will have perked up. ['Nah. Too early.']
************
What's going on in your gardens this week?