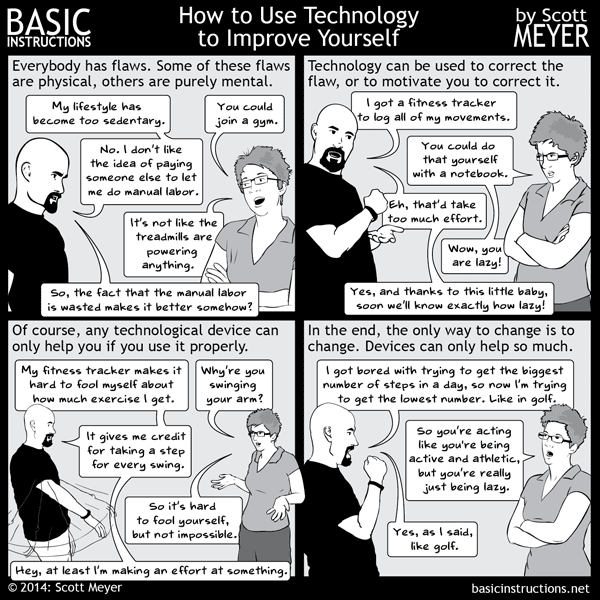 (Scott Meyer's website)
Behold the bold glibertarian Free Staters, harrassing those who can't fight back and demonstrating their unique sense of humor:
… Keene's two parking officers, both women, are often videotaped by young adults known as "Robin Hooders." They track the whereabouts of the officers by two-way radio, feed expired meters before $5 tickets can be written, and leave a business card saying that "we saved you from the king's tariff."

Welcome to Sherwood Forest, N.H., where these acts of charity have led to some donations and gratitude, but also to sidewalk tensions, harassment allegations and litigation. They are part of a broader effort by about two-dozen activists, most of them from someplace else, to unshackle Keene from the "violent monopoly" of government and its enforcers, including these parking officers who work in weather fair and foul…

But some local residents are speaking out in their stead by challenging the activists through a Facebook page with the unwieldy name of "Stop Free Keene!!!" One of its organizers, Andrea Parkhurst Whitcomb, is asking the relative newcomers a fundamental question: "Who asked you to come free us?"…

Back in 2003, a libertarian-leaning group called the Free State Project decided that this small state could be a liberty lover's paradise if enough like-minded people settled here. (The movement, by the way, tends to attract white males, according to Carla Gericke, the group's president, a white South African who has lived for many years in this country. "I'm the token African-American," she joked.)

A dozen years in, the Free State Project is about three-quarters of the way toward achieving its goal of having 20,000 people commit to relocating to the state, after which it will "trigger the move."…
Yeah, after a dozen years of bold talk on the internet, they admit they haven't been able to persuade enough people to sign a pledge. The 'Deport Justin Beiber' WH-petition crowd beat that tally within days. If the Free State programmers had any forethought (insert your own joke here) the resolution counter is set not to register above 19,999, because if that trigger ever gets pulled it's gonna be even more embarrassing trying to explain when NH's population somehow fails to expand beyond the usual outflow of Masshole tax dodgers.
***********
Apart from easy targets, what's on the agenda for the start of another week?