Fuck you, Freddie deBoer.
In a rambling post that reads like the critical theory section of every curriculum development text used in doctoral programs in education (translation- every Freddie deBoer post), we learn that liberals are the suck because they decided they were not fans of Eich and Sterling's racist and homophobic bullshit. What, you say? Surely he is not making that argument! Oh yes he fucking is:
Online liberalism, as I've said many times, is not actually a series of political beliefs and alliances but instead a set of social cues that are adopted to demonstrate one's class background– economic class, certainly, but more cultural class, the various linguistic and consumptive signals that assure those around you that you're the right kind of person and which appear to be the only thing that America's 20-something progressives really care about anymore.

The dominance of personal branding and cultural signalling over political theory means that liberal attitudes change very rapidly and then congeal into a consensus that is supposedly so obviously correct that it does not need defending. In the past year, liberalism as an elite social phenomenon has abandoned first rights of the accused and second the right to free expression. The Jameis Winston and Woody Allen sexual assault cases saw the rise of resistance to any discussion whatsoever of due process and rights of the accused, and in the way of their culture, online progressives moved quickly to a place where anyone mentioning those rights at all were immediately and angrily denounced, and accused of insufficient resistance to (if not outright support for) rape and rape culture. Similarly, the Brandon Eich situation, and now the Donald Sterling fiasco, have prompted this social cohort to change liberalism such that its traditional staunch defense of free speech rights has become instead an assumed disgust with those who talk about free speech rights at all. On Twitter and Tumblr, the notion that people have the right to hold controversial political opinions is not a cherished precept of the left but tantamount to racism and homophobia. And, as I recently wrote, abandoning these commitments also entails abandoning the traditional liberal argument that rights are meaningless without ability.
His reasoning for this is that one day, the right wing might come after people on the left for thought crimes!
Shirley Sherrod wants to tell you to go fuck yourself. As do any one of the thousand people who have been neutered publicly for uttering entirely sensible thoughts. Van Jones?
Do I really need to make a list for you? I'm sure you all can come up with samples for Freddie in the comments. The right manufactures bullshit and ruins peoples lives. The despicable (in Freddie's mind) online left merely reacts accordingly to the appalling statements these people make.
Not to mention intolerant liberals had nothing to do with Eich and Sterling getting shitcanned. Eich quit because his whole company was going to quit (half the board did) and because other programmers and Silicon Valley companies were shunning him. Sterling got the boot because 29 other billionaires saw their golden goose bleeding out, so they had the league courtier show him the fucking door. Us hater leftists got no fingerprints on those clean hits.
And seriously. WOODY FUCKING ALLEN and JAMEIS WINSTON?
But it gets better! In the comments, we find this:

He was reacting either to us not wanting to put up with Sterling's racist bullshit or to one (1) comment from DougJ. One. That was interpreted by our thin skinned truth teller to be "silencing the heretics." Nobody here had a strong opinion about Eich other than this really isn't a free speech issue, the dude just pissed off all the people in the community and in his organization, so he had to go. There was no advocacy (nor was there for Sterling other than noting he is an addled old racist asshole), just an examination of reality. Which is probably what confuses Freddie.
Yes, Balloon Juice is silencing the heretics. We've silenced Freddie so much that he used to post here and still has an active account.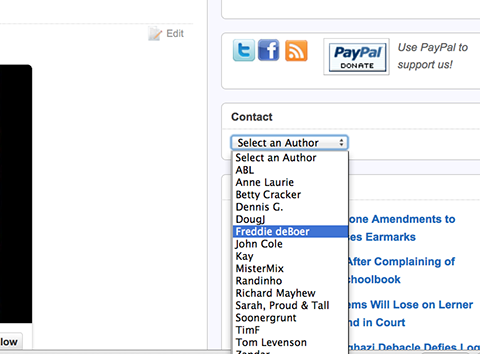 Stop Balloon Juice before we silence the heretics again. Hell, I'll give Sterling an account so he can explain why we all suck for thinking he is an asshole who shouldn't be an NBA owner.
You're a regular fucking Solzhenitsyn, Freddie. Get over your bad truth telling self.
*** Update ***
And may I just say that if this blog is going to get lumped in with ANY blog that is considered evil and wrong, I'm fucking super cool with us and LGM as the badboys.