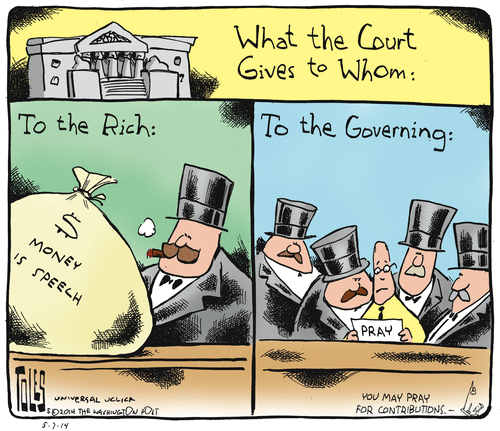 (Tom Toles via GoComics.com)
A cartoon especially for John Cole's mom.
Speaking of women who tick Cole off (although I'm sure the two have nothing else in common), NYMag has a news update from World Salad Sarah:
And here, we thought today's award for the most ridiculous Clinton theory would go to Lynne Cheney for suggesting that Vanity Fair would only agree to print Monica Lewinsky's essay as part of some Clinton-orchestrated plot. In an Extra interview on Tuesday night, Mario Lopez asked Sarah Palin to weigh in on whether becoming a grandmother will make Hillary Clinton more electable in 2016. "I think it will kind of broaden her world view," Palin replied, rambling for a bit about the national debt. Then, she found the perfect attention- grabbing remark: Perhaps Chelsea's baby will make Hillary change her views on abortion, though it appears being pregnant herself didn't do the trick…
Also, if Hillary keeps bogarting all the media attention, Sarah may just have to run for President her own self, so there. But Palin's really annoyed that Chelsea didn't surprise her mom with an "oopsie" pregnancy annoucement during the 2008 primaries. Waiting until ya finish fancy advanced college and have a big expensive wedding before gettin' knocked up — what a snob!
Speaking of GOP candidates who hate 'snobs', Paul Constant has a Fox News video of Rick Sanctorum talking up his new 'economic solution' — marriage, the traditional kind, between a man and a woman — with Neil Cavuto:
… Santorum's major problem as a candidate is that his hate comes shining through at every opportunity. When Republican voters start to cozy up to him, and when he begins to get comfortable, he says terrible things. Santorum's hate problem is only getting worse as he gets older. He's trying to be the genteel, friendly candidate here, but hate keeps crawling up his throat. He forces it down. He's uncomfortable — you can watch his mouth slide around his face as he talks, like he's got a bad case of acid reflux—and he wants to let it out. But he doesn't. Not just yet. Soon, though. This is a man who is composed of about 95% hatred. He'll say something terrible soon. He just can't help himself…
Because it's breakfast time, I spared you the actual videos. You can thank me later.
***********
Apart from holding down the bile, what's on the agenda for the day?