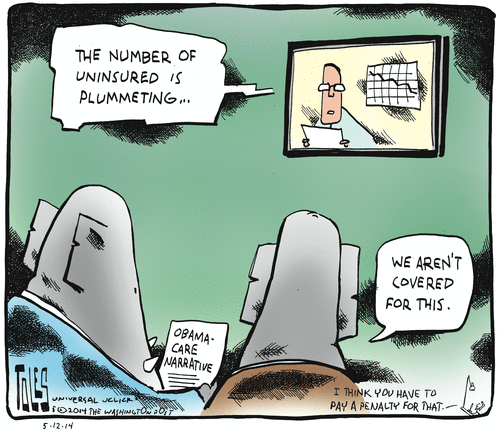 (Tom Toles via GoComics.com)
Greg Sargent asks, gleefully, "Are Republicans surrendering on Obamacare?":
As #Benghazi fever rises among Republicans, the Hill reports this morning that the House GOP has "gone quiet" on Obamacare. There are no scheduled votes or hearings on the Affordable Care Act. Contacted by the Hill, most GOP campaign committees won't say whether they will be launching any new attacks on the law.

As the Hill puts it: "The lack of action highlights the GOP's struggle to adjust its message now that enrollment in the exchanges beat projections and the uninsured rate is going down."

At the same time, the Hill notes that GOP operatives overseeing Senate races remain "conscious of the need to keep a drumbeat going against the law." The question now: If Republican officials really are backing off on Obamacare, will the base go along?

A new CNN poll illustrates the situation nicely: It finds that far more Americans want to keep Obamacare than repeal it. At the same time, only majorities of Republicans want repeal and only majorities of Republicans think the law is already a failure.…
Mr. Sargent's emphases. Truly, it will be a fine thing this fall if the Repubs can't get their base to turn out unless they're vowing to repeal Obamacare… and every time they reiterate that vow, they lose more low-information voters. Every single Democrat needs to campaign on "If you don't show up in November, the GOP will steal your shiny new affordable healthcare benefits!"
***********
Apart from good news, what's on the agenda for the evening?