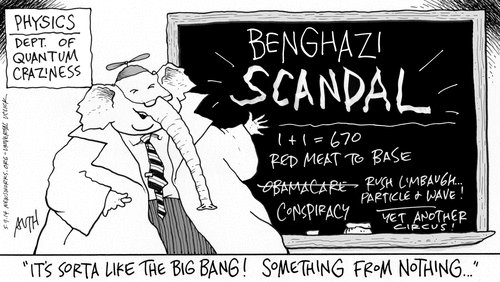 (Tony Auth via GoComics.com)
Interesting numbers from The New Republic:
House Republicans' newly created Benghazi Select Committee has attracted attention to their penchant for using investigations of the Obama administration as a fundraising tool. Most of the criticism, thus far, has concerned the National Republican Campaign Committee's effort to collect email addresses from those who want to "become a Benghazi watchdog" despite committee chairman Trey Gowdy's plea that they not do so.

It is no surprise, though, that the NRCC would use Benghazi to the Republican Party's financial advantage. To understand just how lucrative these scandals can be, look no further than Rep. Darrell Issa. He has offered Republicans a clinic in the science of converting phony scandal into political cash.

For most of his career, Issa was a lackluster fundraiser. But through the first five quarters of the 2014 election cycle, his campaign committee has raised $2,573,258. This is an impressive haul, considering he has not faced significant opposition in more than a decade. The two Democrats vying to challenge him this year together have raised less than $50,000 combined. If Issa's fundraising continues at its current pace, he will raise more this cycle than in his first four terms in Congress combined….

…[T]he Republican grassroots have padded Issa's coffers: The key ingredient to his miraculous fundraising turnaround has not been high-dollar gifts from PACs and lobbyists, but ordinary Republican voters thanking him, through their contributions, for being the president's number one antagonist. Issa has nurtured this relationship with the GOP base by cultivating an enormous direct-marketing operation. Four of his top six campaign expenditures so far this year were to direct mail firms and his third largest expense was $70,684 paid to the Post Office…
***********
Apart from Following the Money, what's on the agenda for the start of the week?