Saw this cool van at a music festival Saturday: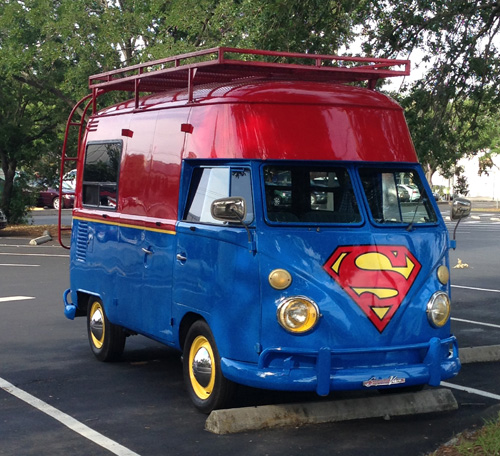 I know y'all already talked about the Michael Sam draft. I just wanted to say I've always loathed the Rams, ever since they beat the Bucs in a playoff game in 1999 due to a blown review call, and the Rams' then-quarterback Kurt Warner rubbed salt in that wound by attributing that "victory" to Jeebus in front of every microphone in North America when it was obviously orchestrated by Satan or Vegas, pardon the redundancy. But now I'll have to root for the Rams anyway, damn it.
A Miami Dolphins player got in trouble for a tweet in which he apparently expressed disgust with Sam and his boyfriend's post-draft PDA. The yahoos in the comments section of our local rag are predictably misunderstanding the First Amendment, fretting about what the children will think and wondering why The Gays are "shoving it down our throats" again. Always the throat metaphor with that crowd. Dr. Freud on line one, assholes.
Please free free to discuss whatever.