I think Kevin Drum is getting something wrong on healthcare subsidies and the economy in a liquidity trap:
 don't have access to the full Goldman Sachs report, but I'm dubious about this for two reasons. First, Obamacare is roughly revenue neutral, which means federal subsidies are all paid for via tax revenue. Obamacare really shouldn't have any first-order net stimulative effect on personal income or GDP. Second, although subsidies will reduce health insurance bills for people who were previously covered—thus freeing up income for other purposes—the individual mandate will force previously uncovered people to buy insurance they didn't have before. This will reduce the income they have for other purposes.
Let's think through the basic financing of Obamacare cash flows.  At its simplest, Obamacare transfers money from high income individuals to lower income individuals through the form of either subsidies for health insurance or Medicaid expansion payments.  The taxes that pay for Obamacare are primarily a surtax on high incomes via income taxes and an expansion of what is considered taxable income for OASDI-HI taxes.  Those taxes mainly hit people who are making more than $200,000 in MAGI.  There are a few other taxes (tanning, medical devices, reinsurance etc) that hit people at all income scales, but most of the new taxes are paid for by higher income individuals.
Subsidies are limited to family units making less than 400% Federal Poverty Line.  More subsidy dollars go to families who are poorer. Medicaid expansion dollars are limited to families making less than 138% FPL. 
Going back a few years, the CBO estimated the multiplier effects of various ARRA (stimulus) programs.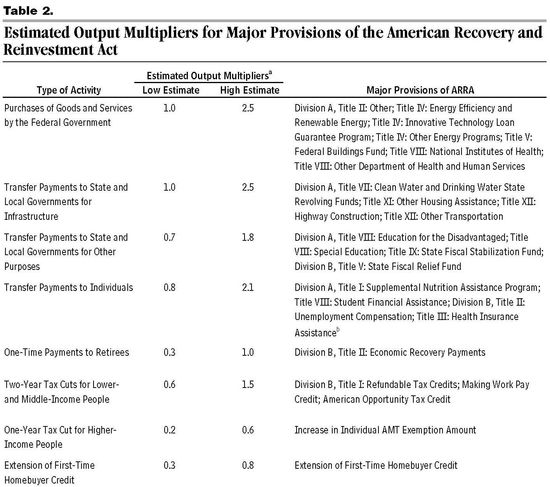 The key insight is that an economy that is operating significantly below potential, and where there is a significant class of people who are fundamentally tapped out of both ability to spend and ability to borrow, giving those people more money at the expense of taxing people who have unused capacity to spend and borrow should produce a significant burst of economic activity.  That is the basic financial transfer mechamism of PPACA — money goes to poorer people with a high marginal propensity to spend and it comes from people with a high marginal propensity to save. 
Does this analysis hold in all conditions. Hell no.  It holds when we're stuck at the zero-bound and getting out of a massive debt overhang.  If we're seeing an economy expanding like it is 1943, this analysis fails miserably, but we're not seeing an amazing and unsustainable boom right now.