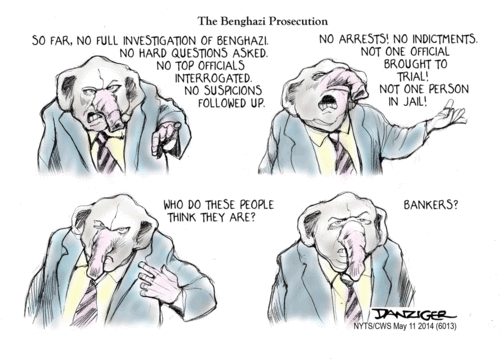 Margaret Hartmann at NYMag, "Meet the Republicans on the Benghazi Select Committee":
… A Republican aide told Politico that their goal was, "to select serious, sober-minded members who will make this about finding answers to some troubling questions and will not make this a partisan shouting match," adding, "We're not going to convene a kangaroo court." The Republican half of the panel is packed with former lawyers and prosecutors, but they've seen their share of controversies, from offending Muslim-Americans to embarrassing themselves on The Colbert Report…
… that last would be Georgia's Lynn Westmoreland, the guy who called the Obamas "uppity" (but only because he "wasn't aware" of the racial connotations). Also Indiana's Susan Brooks (the newbie), Ohio's Jim Jordan (wants a special prosecutor appointed to investigate the IRS 'scandal'), Kansas' Mike Pompeo (Gitmo defender), Alabama's Martha Roby (Tea Party listener), and Illinois' Peter Roskam ("House GOP insiders say he is on the committee to act as a stable "monitor" and ensure that it doesn't "go rogue" and turn into an embarrassing sideshow."). Suspect that boat has already sailed, Rep. Roskam.
More details, and videos that would be embarrassing if the subjects were capable of that emotion, at the link.
***********
Apart from reading the sideshow hoardings, what's on the agenda for the evening?