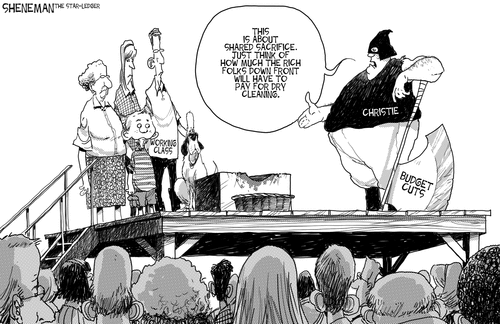 (Drew Sheneman via GoComics.com)
From the NYTimes:
Even though fast-food workers have staged several one-day strikes in the last 18 months, the protests have not swayed McDonald's or other major restaurant chains to significantly raise their employees' pay.

So on Thursday, the fast-food workers' movement wants to broaden its reach as it pushes for a $15-an-hour wage that restaurant companies say is unrealistic. In addition to one-day strikes in 150 cities across the country, the movement's leaders hope to take their cause global. They say support protests will take place in 80 cities in more than 30 countries, from Dublin to Venice to Casablanca to Seoul to Panama City…

The movement's organizers say there will be protests in 30 cities in Japan, 20 in Britain, five in Brazil and three in India. The effort's strategists point to some fast-growing overseas markets as vulnerable targets for corporations like McDonald's that have begun relying more heavily on foreign revenue now that domestic fast-food sales have languished.

To help propel the effort, a labor federation with 12 million workers in 126 countries — the International Union of Food, Agricultural, Hotel, Restaurant, Catering, Tobacco and Allied Workers' Associations — met in New York last week. It brought together union officials from more than two dozen countries, many of them with thriving, powerful labor organizations, to throw their weight behind Thursday's protests….

The movement, known as Fast Food Forward, has also sought to pressure McDonald's by filing several lawsuits accusing the company and its franchisees of illegally underpaying workers through, among other things, off-the-clock work. In addition, organizers are planning a protest at McDonald's annual shareholders' meeting on May 22 in Oak Brook, Ill.

Gary Chaison, a professor of industrial relations at Clark University, said Thursday's protests were an example of "the labor movement reinventing itself. It's the most experimental thing labor has done in a long time."…
***********
What else is on the agenda for the day?