My daughter drives herself to school now. I have to ride along since she only has a learner's permit, and it's still terrifying to be her passenger, even though she really is a pretty good driver.
To distract myself so I won't annoy her by working an imaginary brake pedal or involuntarily shrieking in alarm, I look out the window. That's how I saw this lovely wood stork plus a gorgeous roseate spoonbill: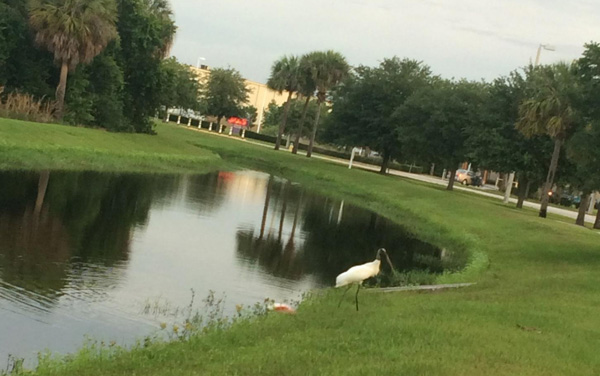 I wish you could see the spoonbill better; it's foraging on the shoreline just behind the stork. Sometimes when I'm walking the dogs in the morning, I see spoonbills flying overhead, but I never get a good picture because I'm being dragged down the road by the boxers.
Y'all were recently subjected to Cole's car search. I'm also in the process of searching for a used car to replace my crappy 2001 Beetle. I'm going to have to get a larger car so I can haul the old ladies in my life around in greater comfort (grandmothers, mother-in-law, etc.).
My granny hates to ride in the Beetle ("It's like sitting in a bucket!"), and my other grandmother won't even attempt to get in it anymore. Our other vehicle is a large pickup (necessary to haul boats and what-not), and they can't climb into that at all.
I'm thinking about a used Volvo sedan or wagon. I had one years ago, and it was extremely reliable and comfortable. I like Subarus too, but they seem less old lady-friendly and are wicked expensive, even with high mileage. Any suggestions?