Via valued commenters Anoniminous and RalfW, the "take back our country" rally was a resounding failure. Excerpts from "even the wingnut Washington Times" article on the fail parade:
Operation American Spring, billed as a Friday morning multi-million patriot march on Washington, D.C., to oust leadership from the nation's capital — from President Obama to House Speaker John Boeher — has proven woefully below expectations.

"It's a very dismal turnout," said Jackie Milton, 61, a Jacksboro, Texas, resident and the head of Texans for Operation American Spring, to The Washington Times. He said hopes were high when he arrived in Alexandria, Va., a day or so ago and found motels and hotels were sold out for 30 miles around.

"We were getting over two inches of rain in hour in parts of Virginia this morning," Mr. Milton said. "Now it's a nice sunny day. But this is a very poor turnout. It ain't no millions. And it ain't looking like there's going to be millions. Hundreds is more like it."
Actually, tens is even more like it: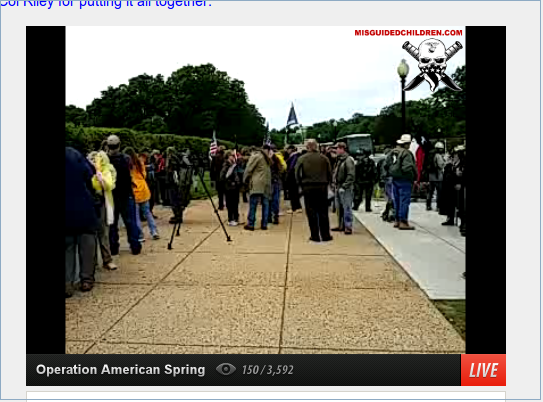 Assholes.