Via Martina Navritalova's excellent twitter feed, I found this:
House Republican leaders intervened Friday to prevent a vote on immigration legislation, dealing a severe blow to election-year efforts to overhaul the dysfunctional system.

The move came after a Republican congressman from California announced plans to try to force a vote next week, over strong conservative opposition, on his measure creating a path to citizenship for immigrants who were brought illegally to the U.S. as children and serve in the military.

Rep. Jeff Denham labeled his bill the ENLIST Act and said he would seek a vote as an amendment to the popular annual defense bill, the National Defense Authorization Act, or NDAA. [Original at Huffington Post. You've been warned]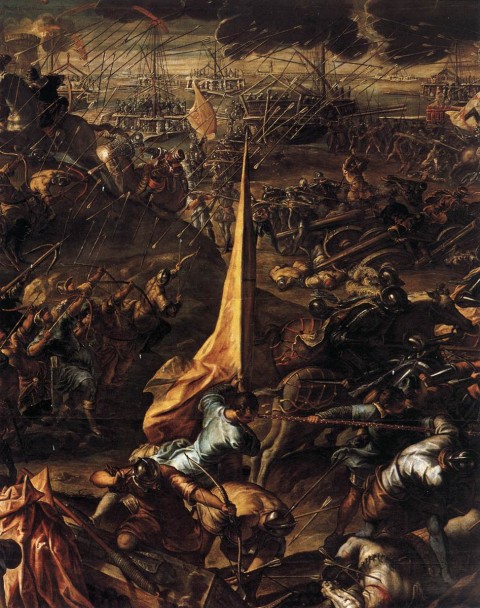 Of note, beyond the obvious — Cantor and his colleagues are killing a Republican sponsored immigration bill — is the fascination in watching the tail wag the dog:
Denham's measure was widely popular and seen as perhaps the likeliest area for compromise.

But in recent weeks prominent conservative groups, including the Heritage Foundation, announced their opposition. Heritage Action, the group's political arm, announced it would include the vote in its ratings on lawmakers and called Denham's legislation "deplorable."
What does Jim Demint possess along with those two little spheres in his hands?…(answer to come in the comments, no doubt).
Truly amazing.  I know the coming election looks tough, but it really does help when the opposing party hands its fortunes over to the likes of Heritage.
Image:  Jacopo Tintoretto, The Battle of Zara, (detail), 1584,