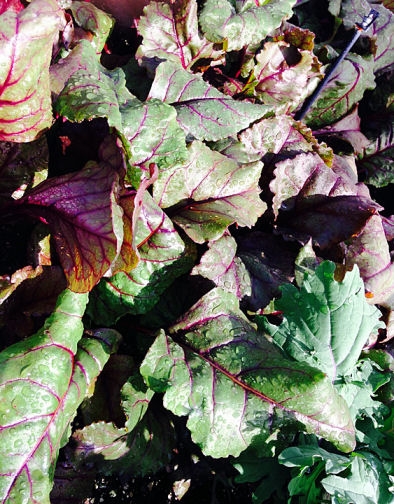 From frequent commentor Marvel:
Hereabouts, we're about mid-way through our usual Spring Boot Camp — six weeks of intense garden labor. And it's just about this time, every year, that we're thoroughly convinced we made a HUGE mistake back in '08 when we bought our little .75 acre of heavy lifting madness here in the Willamete Valley. Thank goodness, by now SOME of the stuff out there has grown enough for us to appreciate and eat — else we'd likely throw in the trowel and find a lovely downtown apartment with a few planters on the deck.

A sampling:

The garlic, planted last Fall is nearly full-grown. We've learned to
limit watering and keep it covered during our usual Spring showers —
one year, after a particularly wet May, we dug up 100+ beauties only
to see them rot as they dried in the garden shed — they'd soaked up too much moisture before harvest.

The onions, planted a couple of months ago are doing well and still
appreciate a sip of water on warm days — they've got a couple more months to grow here in our long-day sun.

The beets [at top] are fast-growing & lovely. I usually make seed tapes (with single-ply TP and watered-down white glue), but this year I bought a six-pack of tiny starts and carefully teased out about fifty baby plants with their thread-like roots — and pretty much every one of them took root — deceptively tough little guys.


The kale & cabbage are coming along; we're eating the kale now and it's just a horse race with the cabbage to see whether or not they'll fill out & mature enough for harvest before they bolt with the hot weather in another month.

The shelling peas are taking off (and good thing: the cool-loving
lettuce we've planted beside them are waiting for the shady Wall Of
Peas to protect them in coming weeks).

The corn, started from seed in a roasty-toasty greenhouse, is about
ready to take up residence outside. We'll be planting them in Area 51 — a nasty, barren spot we've been reconditining with cover crops for the last five years — Good Luck, little hearties!

Finally, the herb garden has been a champ. The perennials (e.g.,
sorrel, thyme, oregano, chives) have come back like gangbusters and the evergreens (rosemary, lavendar) somehow survived our nasty freezes last Winter and have started growing with some vigor.

Elsewhere, the tomatoes, summer squash, cukes, potatoes & peppers are making healthy, if un-photogenic, progress. Yay!