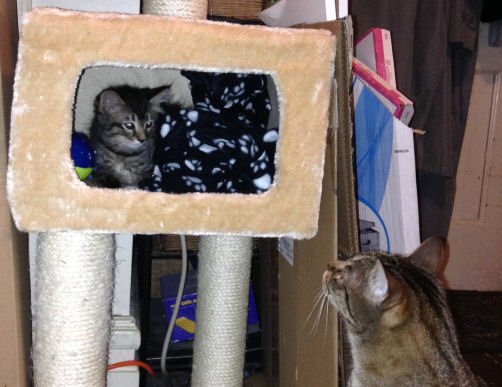 Frequent commentor and Cat Whisperer, Werebear:
I mentioned we were going to an adoption event on a couple of threads last night, and here's the new addition:

Mithrandir (he'll grow into it) Shelter Name: Fudge

Mr WereBear saw the announcement go by on Facebook last night, and we were there extra early because Mithrandir was in the center of the pic they used to announce the event. So we were not about to be scooped on this little treasure. He turned out to be their first adoption of the day!

I blame Mr WereBear for falling in love. AND we only got one, which was great restraint on my part.

I thought some folks might like to give him a big Balloon Juice welcome.

Our former baby, Tristan, has never seen a kitten before. And it shows.
You hit the lottery, young Mithrander. Congratulations, Werebear!
***********
Apart from warm fuzzies, what's on the agenda for the start of another week?