One year ago today, an EF-5 tornado hit Moore, OK and southwest OKC.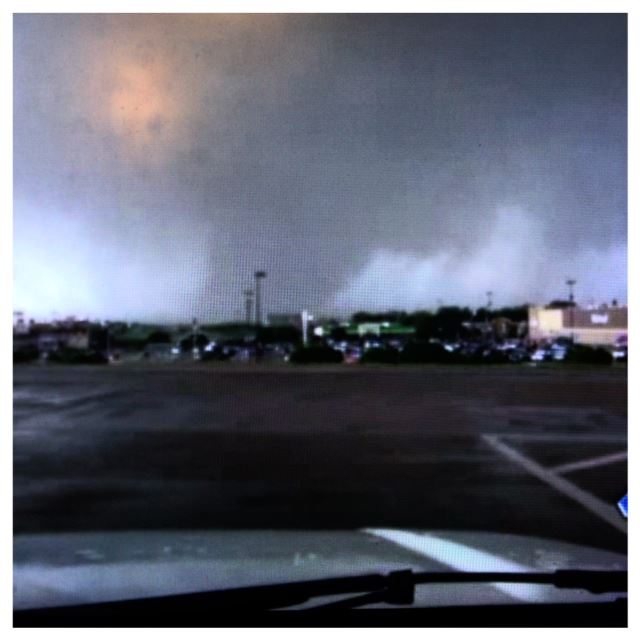 This shot is from the I-35 overpass at SW19th street in Moore, about a mile and a half northwest of my house, and about 3/4 mile northwest of my old house.  The view is almost due west.  I make this turn almost every day on the way home from work.  The tornado was at full EF-5 strength in this shot.  It was in the immediate vicinity of Briarwood Elementary.
Here is an app by one of our local news stations.  Each of the pictures has a slider you can move left and right to change from before to after views.
The National Weather Service at Norman, OK has a webpage up with resources about the tornado, now known as the Newcastle-Moore EF-5.
The day here on Balloon-Juice opened normally enough, with one of Anne-Laurie's usual morning open threads poking fun at the excesses of the opposition.
We had gotten up and around that morning, after sleeping the first night in the new house.  We'd been hearing for a few days that NWS and local weather forecasters were predicting severe weather, with a high probability of dangerous weather, so we kept the radio tuned to local NPR.  We'd had some hail about golf-ball and baseball-sized on Saturday briefly.  We went about our day, which consisted mainly of finishing moving out of the apartment in the city we had occupied since selling our previous house in February, and the boy went to hang with his friends and go to graduation rehearsal.  We kept the daughter out of school just because she's very helpful, and a lot of fun to be around.  As the day progressed, we returned the moving van to the U-Haul and continued to load out the small lamps and knick-knacks and pictures and other various items that seem to make up so much of our lives and the daughter and I took a couple of loads to the house in the Toyota Highlander while my wife stayed in the apartment to finish cleaning.  We had a radio on in the house, and we got word of a severe storm brewing east of Newcastle, OK–about 10 miles away–at around 2:00 PM.
And then things started to get worse.  At 2:00 PM, KROU, the NPR station in Norman switched over to live audio from local television tracking the storm.  At 2:47 PM, the sirens went off.  The radio reported that a tornado that was rapidly increasing in strength was due west of us.  The street names sounded familiar.  We didn't have a storm shelter installed (that was scheduled later) so Soonerdaughter and I decided to go to the laundry room, which was close to the center of the house, and had two large beams intersecting above it.  We stayed there until the radio reported that the tornado had turned northeast and was passing through the northern part of our old neighborhood.  I went outside and stood on my driveway and looked to the northwest.
Here is the NWS timeline of events.
I have been mortared, IED'ed, and even shot in the chest plate of my body armor and I've forgotten how many firefights I've been in.  I've had surgery on my heart.  I've been in two car accidents and I had a parachute accident in the Army.  I've never been so overwhelmingly terrified and awestruck as I was looking at that tornado.  I read Watership Down when I was a kid, and I remember Adams describing rabbits as having gone "tharn," paralyzed with fear and dread, unable to think.  I went tharn.  After a bit, I switched into "Sergeant-mode" as my wife calls it.  Took stock of the situation as I knew it, made a couple of decisions, and came up with a plan and a priority of work and off we went.
Here at BJ, the first report of the storm that I can find was posted in a comment by Heliopause.  Initial reports were confused as they always are.  Interest on the site was intense.  The next thread was all about it. You guys actually had more and better information than those of us on the ground for a couple of days.  Power lines were down, a substation had been hit, cell towers were destroyed.  As we drove around to the east of the city to get north to pick up my wife, my daughter had intermittent cell service.  We couldn't get a message or a call out to anyone.  A trip that normally took about 20 minutes to the apartment took about two hours.  My wife had been cleaning in the apartment and listening to music on her phone and had no idea anything had happened.  She was pissed at me for being gone so long and not calling.  We couldn't raise my son at all.  You guys were starting to get a little concerned.  Reading that later, I was deeply touched.
The highschool my sister teaches at had been completed in 2012, and was rated to withstand a near miss from an EF-4.  The tornado missed it by a couple of hundred yards.  We didn't know at that time what had happened to Briarwood Elementary or Plaza Towers Elementary.  Both schools were built to code in the 1970s and 80s.  Moore Public Schools had a bond issue to pay for tornado upgrades after the May 3, 1999 tornado had damaged Westmoore High School, and some schools had been retrofitted with reinforced hallways, auditoriums, and gymnasiums.  Briarwood and Plaza Towers were both scheduled for upgrades to start in the new fiscal year.
The drive to my sister's house from the apartment normally took about 20 to 30 minutes depending on the traffic.  It took almost 5 hours of stop and go under 10 mph the whole time.  We were able to get a couple of text messages out to family in California, but no other contact.  Pieces of damaged and destroyed houses were all over the place.  The Moore Medical Center was blown out and instead of the modern steel-reinforced concrete three-story building, it resembled a shabby open parking garage.  Trees completely stripped.  A body under a sheet in a yard.  Power lines down.  A fire hydrant gone, a geyser shooting into the air.  Cars crushed. a gas station and all the buildings around it completely gone, as if the foundations had been poured and the buildings never built.  People covered in mud and blood.  We helped a couple of them as best we could.  Every couple of miles, a new roadblock would get put up and we would get diverted.  We finally arrived at my sister's house about 11:00 PM.  She had heard from my father who was OK at his house east of the metro, and from my son, who told her he was in a shelter "in a Baptist church" before the phone cut out.  My family was safe.  I had nothing to do at that point.
In the OKC metro, there are dozens, if not hundreds of baptist churches.  Realizing that finding my kid would be like looking for a needle in a haystack, I started chuckling.  Then giggling.  Then laughing hysterically, tears streaming down my face.  I began hyperventillating and crying, long buried memories from Iraq and Afghanistan mixed in with the sights and sounds and odors of that day filled my head, and I couldn't stop crying and shaking.  The carefully constructed wall between my prior life and this one was torn apart by the same storm that had leveled so much of my town.  The last thing I remember of that night was dry-heaving.
At 5:00 AM on the 21st, my brother in law and I got in his truck and drove straight south to Norman.  At a Walmart there, we bought all of the bottled water and AA batteries we could afford between the two of us, and we set out.  Forming a plan of action and executing it is something that the Army makes one pretty good at.  At the first checkpoint, we dropped water and batteries and got directions to a church where refugees might be.  We drove there, and my son was not among them.  Drop more water.  Go to the next place they told us.  Drop water and batteries at a checkpoint.  Go to the next church they told us about.  Drop water.  Arrived at the First Baptist Church in Moore.  FEMA trucks there setting up.  These people at this church are legendary here locally for their work with FEMA and the Red Cross.  We asked after my son, and a young lady with a clipboard said that she'd try to find him for us.  A few minutes later, he came strolling up, no shoes.  We hugged for what seemed like forever as my knees felt weak and I thought I might start crying again.  As he gathered his stuff, my brother in law and I began unloading a bunch of bottled water and batteries for the church to use and distribute.  On our way out, we saw two deputy sherrifs talking with a woman who was screaming and crying.
I checked in with you lot later that day.  I spent the next several days assisting a team from the VA Mobile Vet Center that deployed to the Moore Walmart parking lot (along with USAA, FEMA, Farmers Insurance, some church groups from Wichita, KS, and a "Competitive BBQ Team" from south Texas–AMAZING brisket sandwiches, among others) to setup and keep their communications going.  I spent some time helping friends and neighbors dig out.  Several groups like The Mission Continues and Team Rubicon worked out of the Lowe's and Home Depot parking lots for months.  And I finally started getting routine counseling, six years after my last combat tour.
Today, construction in Moore and South OKC is going gangbusters.  New houses are going up all over the place.  Today's building codes are stricter than they were in the 1980s and 1990s when many of the houses that were destroyed were built.  The City of Moore has passed it's own addenda to both residential and commercial building codes.  New houses, like the one next door to us that completed last week are selling before the paint dries.  The new owners are having a tornado shelter installed in the garage right now as I type this.  Other new construction includes the shelter in place.  Ours was installed last August.  Requirements for tornado/hurricane straps and extra bolting to the foundation, in addition to no south or west facing gables and other changes are expected to increase the hardiness of buildings built here.  The remains of Plaza Towers and Briarwood Elementary schools have been cleared, and new, state of the art buildings are going up, with the exterior walls buried by berms, and both buildings made of direct-poured steel-reinforced concrete slabs instead of the usual cinder block with steel rebar and concrete.  All of these changes will make schools and homes safer, but there's not a whole hell of a lot you can do to protect against a direct hit by EF-5 winds.  Everybody I know has the FEMA and Red Cross Tornado apps on our smartphones, as well as apps like Family 360 Locator.  I have given John multiple ways to contact me.
This being Oklahoma however, some needed changes won't be made.  Governor Fallin and her lapdog Attorney General, Scott Pruitt, are doing everything they can do to thwart a proposed law that would expire a franchise tax cut on oil and gas producers and use the money to pay for shelters at OK schools.  They favor local bonds in each district to pay for this, and deepening the franchise tax cut (of course.)  In the Moore Public Schools, so many bonds have been let to pay for construction and upgrades that the district, one of the richer ones in the state, can't afford another bond.  OKC Public Schools has a relatively huge population of poor and lower middle class neighborhoods that can't support such a bond, and other districts like Delaware County in NE OK, northeast of Tulsa, are so poor that local businesses donate money to pay for fuel and repairs to school busses.  The OK Democratic party, which is only slightly less useless than the OK Republican party will not, of course, capitalize on this.
Life goes on.  The dead are mourned and buried, the old parks rebuilt, and new ones added, and new children born to grow.