The New York Times reports today about a fundamentalist Christian college courting controversy from within by changing the statement of belief its faculty must sign.  Here's the nub of the matter for Bryan College — named for Scopes Trial/Cross of Gold star-turn William Jennings Bryan:
Since its founding in 1930, Bryan College's statement of belief, which professors have to sign as part of their employment contracts, included a 41-word section summing up the institution's conservative views on creation and evolution, including the statement: "The origin of man was by fiat of God." But in February, college officials decided that professors had to agree to an additional clarification declaring that Adam and Eve "are historical persons created by God in a special formative act, and not from previously existing life-forms."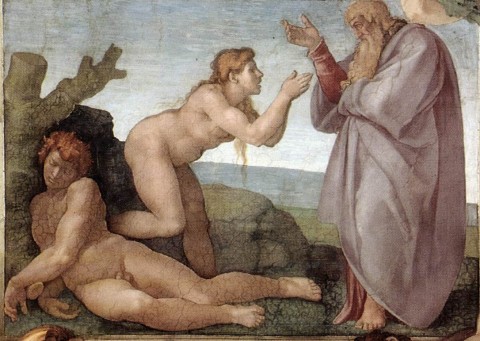 To their credit, both students and faculty are objecting to the change, but what got me was this defense from the president of the college as to why it was so important to rein in creeping strands of inquiry:
Dr. Livesay said that Bryan's leaders were determined to proceed with the clarification.

"I don't think you have to believe the Bryan way in order to be a strong evangelical," he said. "But this is Bryan College, and this is something that's important to us. It's in our DNA. It's who we are."
Res ipsa loquitur.
Image:  Michaelangelo, The Creation of Eve from the Sistine Chapel Ceiling, 1509-10